Are you a fan of Irish soda bread? If so, you're going to love these Irish Soda Bread Scones! Not only are they easier to eat than traditional soda bread, but they're also a little sweeter and drier, making them the perfect treat for any time of day. I'll share my Irish Soda Scones recipe as well as some tips and tricks for baking them to perfection on St. Patrick's Day or anytime of the year.
What are Irish Soda Bread Scones?
Irish soda bread scones are a delightful twist on traditional Irish soda bread. They're made with the same basic ingredients – flour, baking soda, salt, and buttermilk – but they're baked in scone form rather than as a loaf. This makes them easier to eat and more portable, making them a great option for breakfast or a mid-day snack.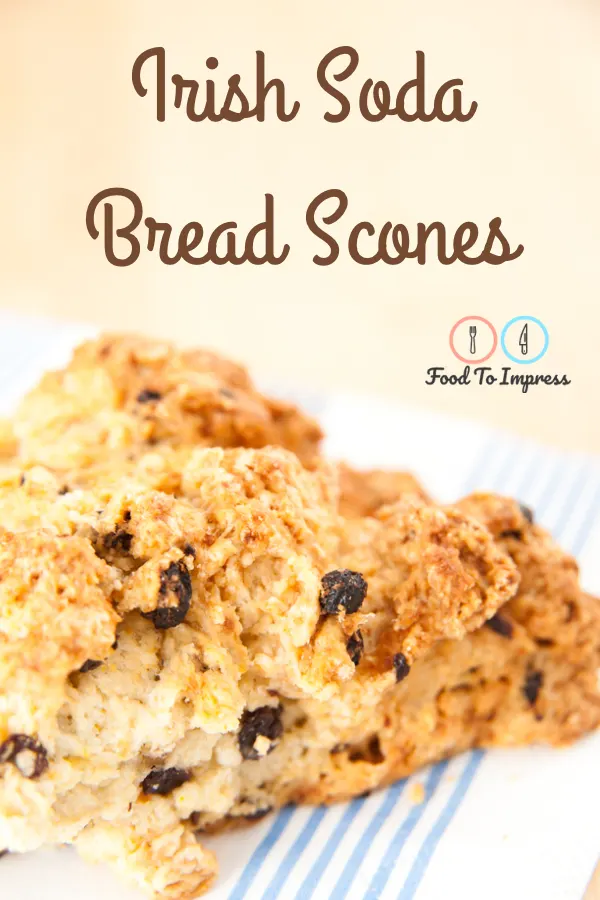 Why are Irish Soda Bread Scones so Tasty?
There are a few reasons why Irish Soda Bread Scones are so delicious. For one, the sweet raisins make then taste just a little sweeter than traditional soda bread, which makes them a great option for those with a sweet tooth. They're also drier than regular soda bread, which makes them perfect for dipping in a hot cup of tea or coffee. Finally, because they're made in scone form, they have a slightly crispy exterior and a soft, tender interior, making the texture of the scones perfect.
We love Irish Soda Bread in our house. Every year we eat it on St. Patrick's Day and Christmas Day so I have so many great memories about this food. Check out my favorite Irish soda raisin bread recipe here.
The main difference between the bread and the scones is the amount of flour, butter and sugar. Scone recipes have more butter and less flour.
How to Make Irish Soda Bread Scones
This simple recipe is easy to make because you should have most of the ingredients right in your pantry.
Combine all your dry ingredients together in a large mixing bowl. Cut up the 4 tbsp butter into small pieces and add it to your all purpose flour and other dry ingredients. I use a pastry cutter to combine the butter with the dry ingredients. It will become like course crumbs.
Make a well in the center of the flour mixture mixed with the butter. Add the wet ingredients into the large bowl and mix with a wooden spoon. Mix in the 1.5 cup raisins. I always add a few golden raisins.
You will need a round dish to put the scone dough in to back it in the oven. I use a quiche dish. Another option is to use a biscuit cutter to form your scones. I went the easy route and simply placed the dough in a round dish. I scored the dough into 8 sections with a sharp knife to form 8 triangle shaped scones when they were done baking. This makes large scones. If you would prefer a smaller size you could separate the irish scones dough into two smaller round baking dishes.
After baking them to a golden brown color, take them out to cool. Serve warm with softened butter or serve at room temperature. They are wonderful with tea, for a snack or a side dish for any irish foods. Add your favorite jam and irish butter for a delicious taste too!
You can store them in an airtight container but in our house they are all eaten warm right out of the oven.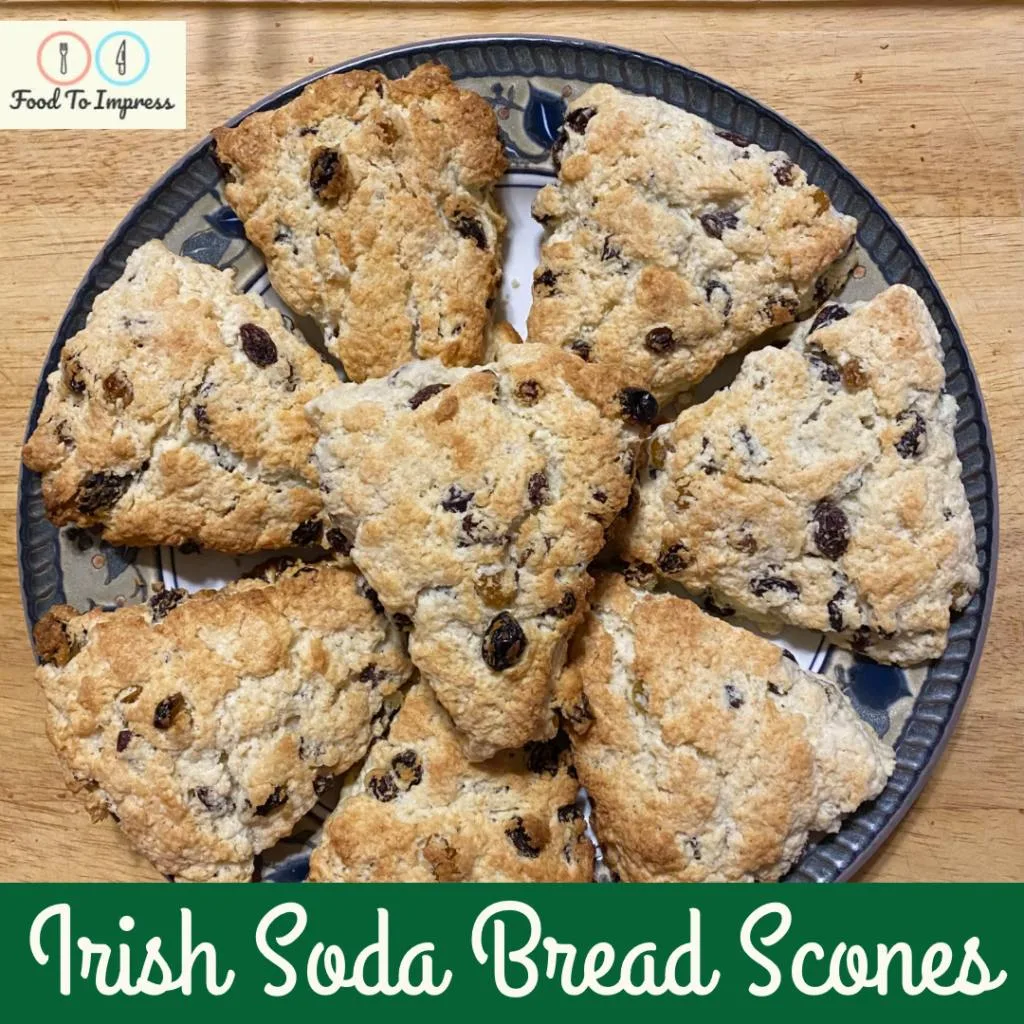 Irish Soda Bread Scones
Course: Bread
This delicious Irish Soda Bread Scone recipe is easier to make than the bread and even tastier!
Ingredients
2 cups of flour

1/2 cup of sugar

2 teaspoons of baking powder

1/2 teaspoon salt

4 tbsp of butter

1/2 cup of buttermilk

1 egg

1.5 cups of fresh raisins
Directions
Mix all the dry ingredients together – flour, sugar, baking powder, and salt.
Cut up the butter into small pieces. Put into the dry mixture and use a pastry cutter to combine until it looks like course crumbs.
Make a well in the center of the dry ingredients. Add in the wet ingredients – the buttermilk and the egg. Stir it all together.
Add the raisins and mix well. Refrigerate the dough for 15 minutes.
Put the dough into a well buttered round dish and score the top with a sharp knife diving the round dough into 8 triangles.
Bake at 400 degrees for about 20 minutes or until there is a golden brown color to the top of the scones.
Let cool until warm on a wire rack. Remove the scones and enjoy with butter and jam or plain.
Tips and Tricks for Baking Scones
Here are a few tips and tricks to help you bake the perfect Irish Soda Bread Scones:
Use a light touch when mixing the dough. Overworking the dough can lead to tough, dry scones.
Don't overbake the scones. They should be just lightly browned on the outside and cooked through on the inside.
Use a serrated knife to cut the scones before baking. This will help them rise properly in the oven.
Consider adding whiskey-soaked raisins, more golden raisins, currants, orange zest, maple syrup, teaspoon caraway seeds, or other dried fruit to the traditional recipe for added flavor to create a more savory scone.
If you want a much sweeter scone, add in chocolate chips.
Irish Soda Bread Scones are a tasty twist on a classic bread recipe. By following these tips and tricks, you can bake your own batch of delicious scones in no time. Whether you enjoy them for breakfast, a mid-day snack, or alongside a cup of tea, Irish Soda Bread Scones are sure to be a hit with your family and friends.
Read all the details about freezing and reheating Irish soda bread if you have leftovers.