Irish soda bread with raisins is a huge comfort food for me. Whether it be the traditional Irish soda bread that my Irish mother made for our family or the sweet Irish soda bread recipe that my brother-in-law makes, eating this tasty bread warms my heart. My brother-in-law's recipe is easier to make and is loaded with raisins. I love the delicious taste of this Irish soda bread with raisins.
This bread warms my heart for sure. Every year my family leaves on Christmas night and takes the long drive from cold New York to sunny Florida. Often my borther-in-law would make an extra loaf of Irish Soda Bread for my family on Christmas Day so we had snacks to eat on our long car ride to Florida.
As a child my mother of Irish descent always made her favorite Irish soda bread recipe that is a round loaf with caraway seeds. It is also delicious! I have carried on that tradition and it is a must-have on St. Patrick's Day in my house. During that time of the year I make the easy version of Irish Soda bread. My six children have a green tea party with green lemonade and enjoy the tasty treat. See what I mean when I say I have happy memories about this bread!
Simple Ingredients for Irish Soda Bread with Raisins
This is the best part about this recipe. It includes basic ingredients that you should have around the house or easily get at your local supermarket. I am sharing my brother-in-laws recipe today that is easier to make.
You only need butter, buttermilk, all purpose flour, sugar, salt, bicarbonate of soda (baking soda), baking powder, cream of tartar, and of course raisins! I use fresh, plump dark raisins and golden raisins but that is up to you.
If you have leftover ingredients like buttermilk and raisins, try making Irish Soda Bread Scones with them.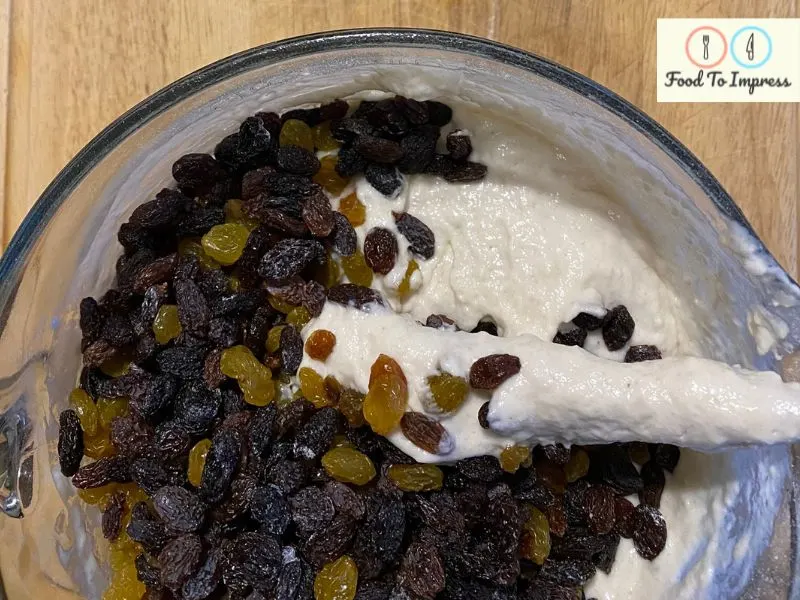 How to Make the Irish Soda Bread with Raisins
This is a quick bread to make but it does take one hour to bake. Gather your dry ingredients. Mix them together with a wooden spoon in a large bowl. Make a small hole in the center of the flour mixture and blend in the liquid ingredients (egg, buttermilk and butter or shortening). When completely mixed together add your raisins.
The Irish soda bread dough with be slightly wet and sticky. You do not need to shape the soft dough. Pour this mixture into a well greased glass dish, dutch oven, or cast-iron skillet to bake in the oven.
When it is done, let it cool in the pan for 10 minutes. Then remove it and wrap it in a clean tea towel to cool. Rest it on a cooling wire rack.
You can then slice the bread warm with a shark knife. Enjoy the juicy raisins in the best Irish soda bread you have ever tasted!
If there are any leftovers, you can wrap the bread in aluminum foil or plastic wrap. If you can not bake your Irish soda bread right away, read more about Storing Batter.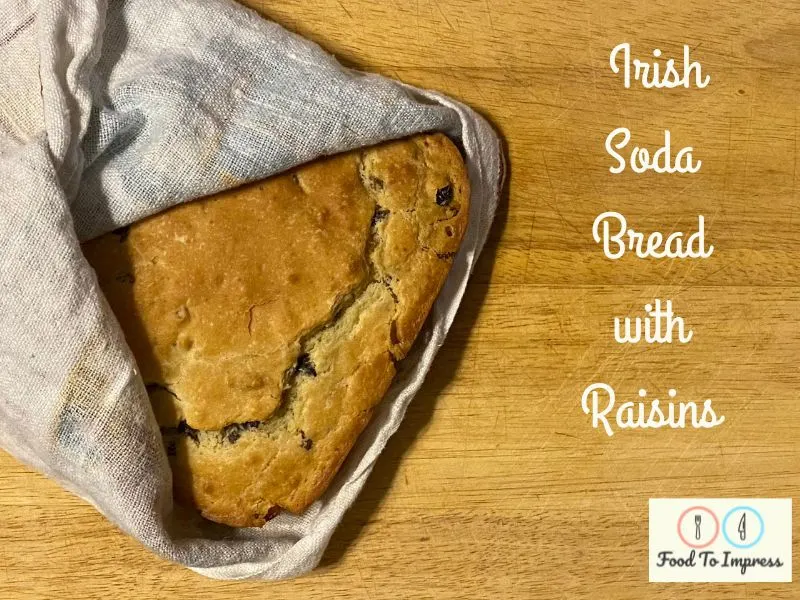 What Makes Irish Soda Bread Taste Different?
Irish soda bread stands apart from other types of quick bread because it is made with only a few basic ingredients. Most notable among these is the use of baking soda instead of regular yeast, which allows for a quicker rise time and lighter texture than traditionally-proofed yeast recipes. Other staples found in Irish soda bread include flour, butter, buttermilk, and occasionally raisins or currants for an added sweetness. The uncomplicated combination creates a subtle flavor that has been treasured by generations of Irish bakers and beyond.
Irish Soda Bread with Raisins Recipe
Course: Bread
Difficulty: Easy
Ingredients
3 cups of white flour

1 teaspoon baking powder

1 teaspoon baking soda

1 teaspoon cream of tartar

1/2 teaspoon salt

2 tablespoons of sugar

2 tablespoons of shortening or butter

1 12 ounce box of raisins (or half box of dark raisins and half box golden raisins)

1 egg

2 cups of buttermilk
Directions
Preheat oven to 350 degree Farenheit
Mix dry ingredients together in a large mixing bowl.
Blend in the egg, buttermilk and shortening.
Stir in the raisins.
Pour into a well greased 8″ by 8″ pan or cast iron skillet.
Bake for one hour. The bread should be golden brown on the top and fully cooked in the middle.
Notes
If you do not have buttermilk, you can make your own by adding 2 tablespoons of white vinegar to total 2 cups of whole milk. This will not taste as good as using store bought buttermilk though.
How to Eat Irish Soda Bread with Raisins
Irish Soda bread with Raisins is a traditional bread from the Emerald Isle. It has been a staple of Irish baking for centuries and is closely associated with holidays like Christmas and Easter. Enjoying this scrumptious bread couldn't be easier – simply slice it into thick pieces, top it with delicious butter, and enjoy!
It's perfect alongside a cup of tea or soup, but can also make a tasty snack by itself. You can enjoy it with Shepard's Pie. Add it to the menu of healthy breakfasts too! Adding some honey makes it especially sweet, while slices of cheese add an extra creamy flavor. However you choose to eat this version of Irish Soda bread with Raisins, it's sure to please your taste buds.
Can you Freeze Irish Soda Bread?
If you find yourself with leftovers of this tasty bread (although I doubt you will), you can freeze it. Read all the details about freezing and reheating Irish soda bread.