Unleash Your Inner Chef! I am back to share my passion for kitchen decor and culinary creativity. Today, we are excited to present you with our exclusive "My Kitchen My Rules" sign – a FREE printable packet that will add a touch of personality to your kitchen space.
These printables make for great gifts and are perfect for those who believe the kitchen is the heart of the home. Let's dive in and explore these charming, hand-drawn designs that are perfect for any farmhouse kitchen or home cook looking to express their culinary style.
You can download the printable sign in PDF format at the bottom of the post. They are letter paper size (8 1/2″ by 11″ but you can print them smaller if you prefer).
Enjoy FREE Shipping on All Kitchen Printables Because They Are Downloads!
In the spirit of sharing our love for kitchen decor, we're offering these free digital download kitchen printables. You'll receive your kitchen rules sign or any other related lettering poster with no extra fee or charge. Please keep in mind that you will get digital access to these files at the end of this post.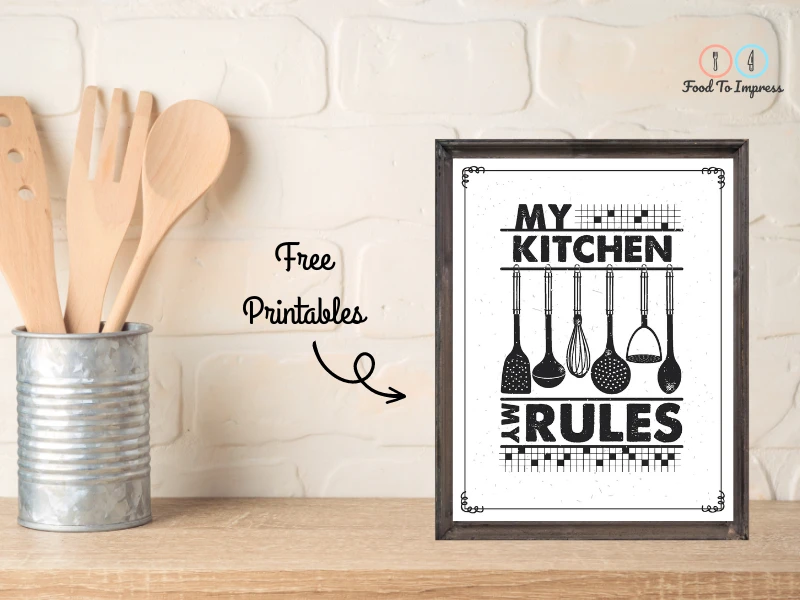 Subscribe to Our Mailing List for Exclusive Offers
If you love these printables and want more exclusive offers, make sure to subscribe to our mailing list. Just provide your email address, and you'll receive updates on new designs, discounts, and promotions. I am always adding to the blog with more free printables. We value your privacy, so please review our privacy policy to learn more about how we protect your information.
Not finding what you are looking for to decorate your kitchen? Check out the entire collection of Printable Kitchen Wall Art or check out more printable Kitchen Rules.
My Kitchen My Rules Sign Options
There are four options in this free printable collection. The charming signs features a vintage illustration of a wooden spoon, utensils, or aprons surrounded by the phrase "My Kitchen My Rules" in black text.
The hand drawing style and white background make it a versatile addition to any kitchen wall decor. Print this design on a wooden plank, wood sign, or download and print the lettering poster to create a cohesive look for your space.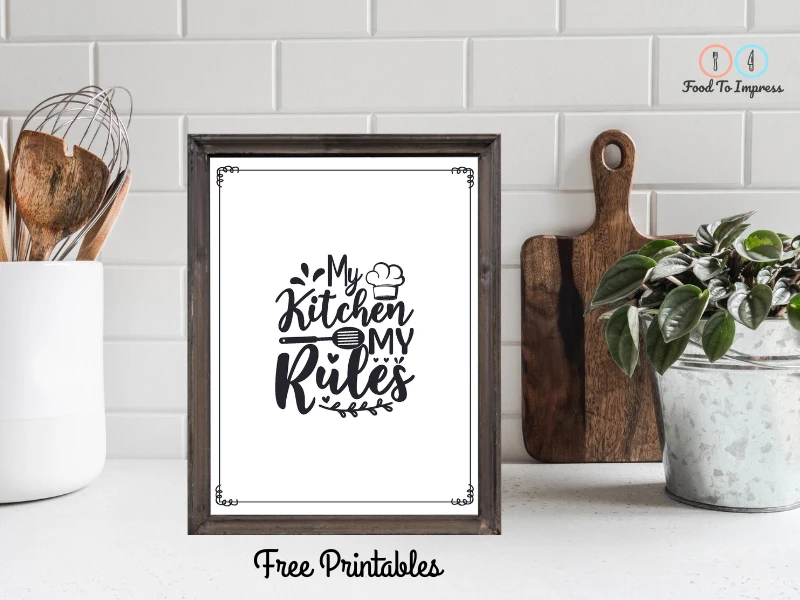 Illustrated Pastry Chef Hat Poster
For those who adore baking, our illustrated pastry chef hat poster is a must-have. This kitchen poster showcases hand-drawn illustrations of various baking tools and utensils, perfect for adding a touch of character to your baking station. The vintage illustration style and dirty paper background give this design a nostalgic, farmhouse kitchen feel.
Farmhouse Kitchen Wall Decor: Yellow Apron
Nothing says home like handwritten recipes and aprons passed down through generations. Capture that essence with our farmhouse kitchen wall decor that features a yellow apron. You can print these on a white background or opt for a dirty paper background to add a touch of rustic charm to your kitchen.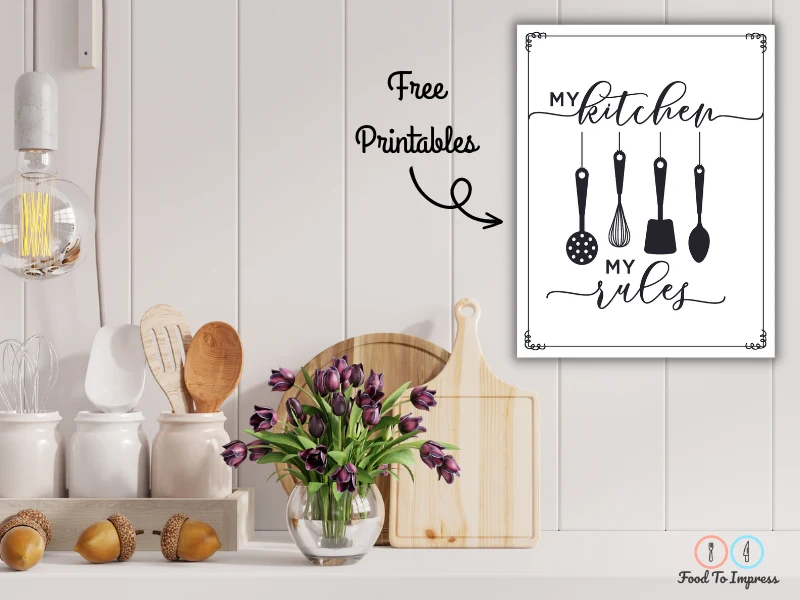 My Kitchen My Rules Black Text with Utensils
Looking for a unique gift for a fellow home chef? Our "My Kitchen My Rules" black text with utensils is both practical and stylish. This creative kitchen rules sign is perfect for anyone who loves cooking and believes in setting their own culinary boundaries.
Classic Vintage Illustration: Kitchen Utensils #2
Embrace the charm of yesteryear with another classic vintage illustration of kitchen utensils. Featuring a variety of tools essential for any home cook, this design is perfect for adding a touch of nostalgia to your kitchen. The hand drawing style and white background make it a versatile addition to any kitchen wall decor.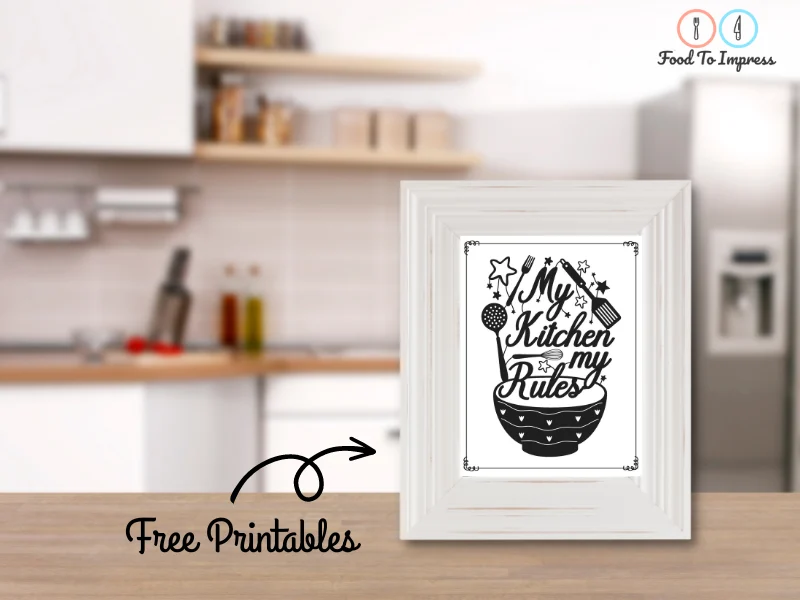 Transform Your Kitchen with FREE Printables
Now that you have an array of My Kitchen My Rules sign and other related lettering poster designs to choose from, it's time to transform your kitchen into a space that reflects your culinary passion. Whether you're a seasoned home chef or a baking enthusiast, these FREE printables are perfect for adding personality and charm to your space. With a variety of hand-drawn designs and vintage illustrations, you're sure to find the perfect piece of kitchen wall decor that speaks to your unique style.
Not only do these printables make for great gifts, but they also allow you to showcase your love for cooking and entertaining. From the farmhouse kitchen to the modern home, these designs are versatile enough to complement any decor theme. Plus, with FREE digital delivery and the option to personalize your kitchen poster with beautiful frames, you can create a truly customized, functional, and aesthetically pleasing look.
So print your favorite My Kitchen My Rules sign or related lettering poster, and let your inner chef shine! Don't forget to subscribe to our mailing list with your email address for exclusive offers, updates, and more. And remember, in your kitchen, you make the rules. Happy cooking!
DOWNLOAD YOUR FREE PRINTABLE HERE