Printable kitchen wall art is a simple and affordable way to add personality and style to your home. Whether you're looking for inspirational quotes, vintage illustrations, or modern graphics, countless options are available online. In this blog post, we'll explore the benefits of printable kitchen wall art, how to choose the right design for your space, and some tips on how to display it effectively.
I will be adding to our collection of printable kitchen wall art that you can download for FREE so check back frequently for new additions to the collection.
Our Collection of Free Printable Kitchen Wall Art
This growing collection of free kitchen printables is awesome! Don't see something you need, suggest it to me and I will see what I can do. I love creating free printables to help you decorate your family kitchen. Simply download, print from your home printer, and toss in a cute frame and you will brighten up any room.
Kitchen Conversion Chart – if you love to cook or are just starting out, you will want to check out this collection of 7 different free kitchen conversion charts to download.
Life Happens Coffee Helps – add these cute designs to your coffee station at work or kitchen wall at home.
Printable Kitchen Quotes Free Printable – Whether you want a quote that is funny, motivational, or inspirational, we've got you covered. So what are you waiting for? Get cooking and decorating with these FREE PDF packet. This set of printables is super fun!
Monthly Meal Plan Printable Free – You might not think of this as Kitchen Wall Art, but if you are an organized person, hanging these clean meal plan guides on your refrigerator will make your heart happy!
Benefits of Printable Kitchen Wall Art
One of the biggest advantages of printable kitchen wall art is its affordability. Instead of spending hundreds of dollars on expensive artwork, you can find high-quality designs and kitchen printables online that you can print at home or at a local printing shop for a fraction of the cost. This makes it an ideal option for those who are decorating their homes on a budget.
Another benefit is the flexibility that printable kitchen wall art offers. You can choose from a wide range of designs in different styles and sizes that suit your taste and preferences. They are digital files, you have complete control over the size and color scheme of the artwork. You can also easily swap out designs whenever you want to refresh your decor without investing in new pieces.
You can change up the art prints by printing on different colored paper instead of white paper, to add more fun to your space. When you sit down to eat, the kitchen printables will be sure to put a smile on your face and warm your heart.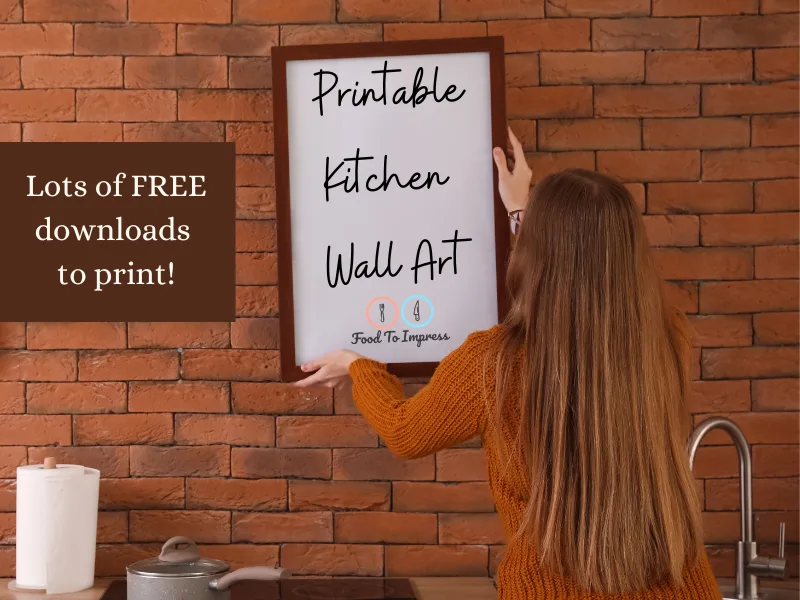 Displaying Your Artwork
Once you've chosen your printable kitchen wall art designs, it's time to think about how to display them effectively. Here are some tips:
Choose frames that complement the style of your artwork and match other decor elements in your space.
Consider hanging multiple prints together as part of a gallery wall arrangement.
Use command strips instead of nails if you're renting or don't want to damage walls.
Experiment with different placement options before committing to hanging your artwork.
Mix and match different sizes and types of frames for added visual interest.
You can get reasonably priced frames on Amazon or Walmart. If you really love the print, you could get it professionally framed.
Whatever your choose, the free printables will bring your kitchen new life and add a little something to your decor.
Choosing the Right Design
When choosing printable kitchen wall art, consider the overall style and theme of your kitchen. Are you going for a rustic farmhouse look or a modern minimalist vibe? Do you prefer colorful graphics or black-and-white prints? These factors will help guide your search for the perfect design.
If you're unsure about what type of design would work best in your kitchen, consider browsing online marketplaces like Etsy or Pinterest for inspiration. Look for designs that incorporate elements that reflect your personal tastes such as favorite quotes or images related to food or cooking.
It's also important to keep in mind where you plan on displaying the artwork. If you have limited wall space, consider smaller prints that can be grouped together in a gallery-style arrangement. Alternatively, if you have more room to work with, larger prints can make a bold statement on their own.
Conclusion
Printable kitchen wall art is an easy and affordable way to add personality and style to any home. With so many online options, finding designs that suit your taste has never been easier! By considering factors such as style, size, and placement when selecting and displaying prints, anyone can create beautiful custom artwork that adds character and charm to their living spaces without breaking the bank.