As a home cook, you know how important it is to get your basic cooking measurements right. Whether you're baking a cake or cooking up a storm, accurate measurements can make all the difference in the outcome of your dish. To help you out, we've created a comprehensive kitchen conversion chart that covers everything from cups and ounces to teaspoons and tablespoons. As an added bonus, we've also included free printable kitchen wall art with 7 different printable kitchen conversion charts in a simple black and white design.
Whether you need information about liquid measuring cups, metric measurements or measuring spoons we have got your covered with our kitchen conversion chart digital art.
You can download your FREE printable kitchen conversion chart PDF packet at the bottom of the post.
What is a Kitchen Conversion Chart?
A kitchen conversion chart is a guide that helps you convert liquid measurements and dry measuring cups from one unit of measurement to another. For example, if a recipe calls for two cups of flour but you only have a measuring cup or scale for ounces, you can use the chart to figure out the exact measurements to determine how many ounces equal two cups.
This chart is an invaluable tool for any home cook, allowing you to accurately measure ingredients regardless of the unit of measurement. Questions about liquid and dry measurements can be answered. Plus, all the conversions are in one place and easy to access, so you don't have to worry about doing complicated mental math while cooking.
The printable kitchen wall art included in the packet gives a handy reference for conversions you might need to use regularly. The free printables are perfect for hanging near your stove or in your pantry, so you can easily refer to the chart when you're cooking!
Whether you're a pro chef or a home cook, having an accurate measurement conversion chart is essential for successful recipes. With our FREE kitchen conversion chart packet, you can make sure that every dish you cook is sure to turn out perfectly!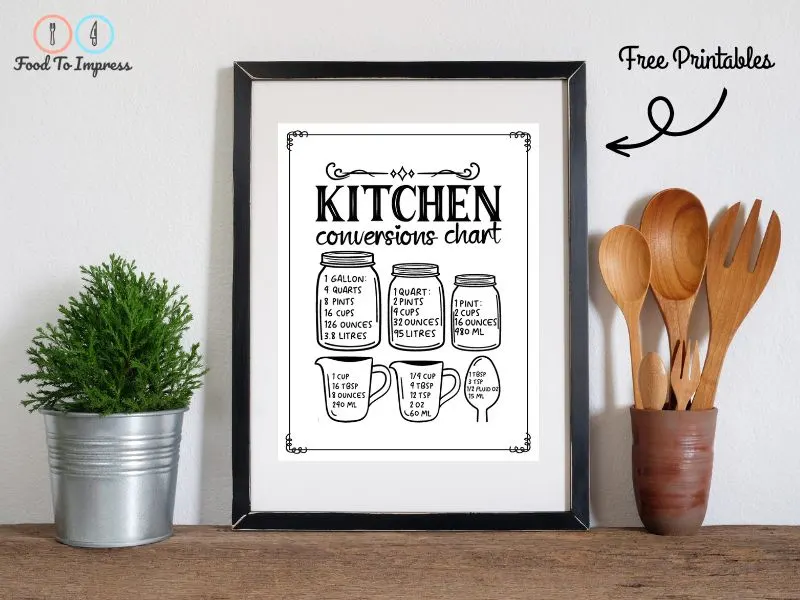 Why You Need a Kitchen Conversion Chart
Using inaccurate measurements can lead to disastrous results in the kitchen. Too much wet ingredients or too little fluid ounces of an ingredient can throw off the flavor and texture of your dish. A conversion chart ensures that you're using precise measurements every time.
The printable kitchen conversion chart is a handy guide when you're trying to convert a recipe from one system of measurement to another. If you want to try a recipe from the US but don't have measuring cups for cup measurements, your kitchen conversion chart is an easy reference to use.
If you're new to cooking, a conversion chart can help take the guesswork out of measuring. You don't have to worry about calculating how many tablespoons are in 1/4 cup or trying to figure out how many teaspoons equal one tablespoon – the chart does it for you!
Measuring liquid ingredients is so important so you want to get the recipes correct whether they are using the metric system or it is a US recipe.
With these easy-to-follow guides and wall art, you can confidently whip up your favorite dishes with accuracy.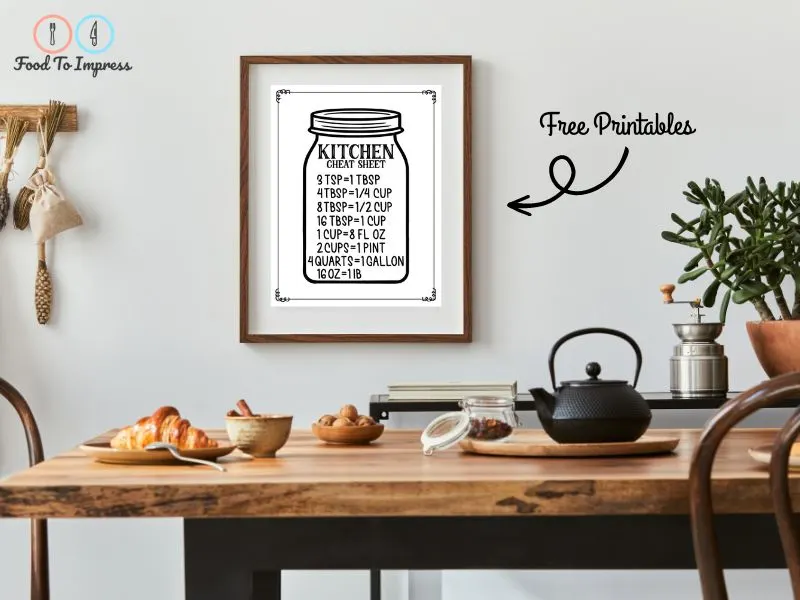 How to Use Our Kitchen Conversion Chart
Our conversion chart includes common units of measurement such as cups, ounces, teaspoons, and tablespoons. Simply find the unit of measurement you need to convert from on the left-hand side of the chart and follow it across until you reach the equivalent measurement in your desired unit on the right-hand side.
For example, if you need to convert 3/4 cup into tablespoons, find "cups" on the left-hand side and follow it across until you reach "tablespoons" on the right-hand side. The equivalent measurement will be 12 tablespoons.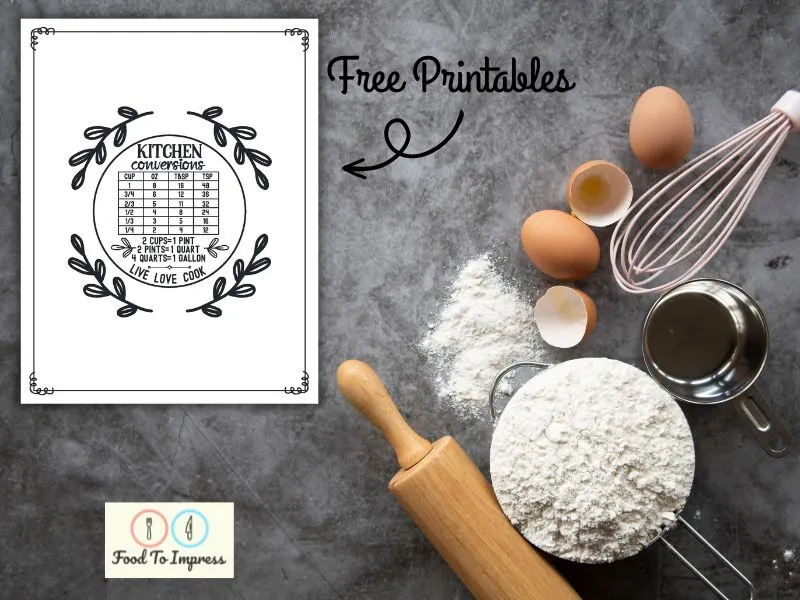 Free Printable Kitchen Wall Art
In addition to our conversion chart, we've also created free printable kitchen wall art with seven different designs featuring our conversion charts. These prints are perfect for hanging in your kitchen as a quick reference guide while cooking or baking.
The designs feature simple black and white typography that will complement any kitchen decor style. Simply print them out on standard printer paper or cardstock and frame them for an easy DIY project.
Check out more free printable kitchen wall art.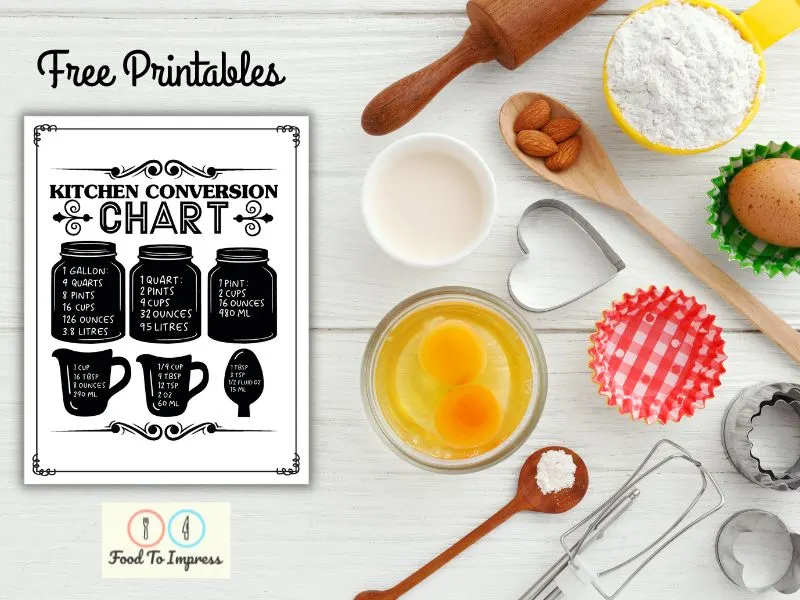 Where to Display the Kitchen Conversion Chart Pictures
The kitchen wall art is perfect for hanging in any part of your kitchen that you'll be regularly cooking or baking in. Consider placing it near your oven, on the refrigerator, or even near a spice rack.
This way, you won't have to worry about finding the conversion chart every time – it will be right there when you need it!
Choose the digital print that you want to print. You can put it in a simple frame, laminate it to protect it from spills when cooking, hang it inside a kitchen cabinet, or print it on cardstock paper and toss on a shelf.
The simple design compliments any kitchen decor. It makes a great house warming gift too!
Conclusion
A kitchen conversion chart is an essential tool for any home cook who wants to ensure precise measurements every time they step into their kitchen. With our comprehensive guide and free printable wall art, you'll never have to worry about inaccurate measurements again! You have to pay for most sets of kitchen conversion charts, but this one is free!
Download Your Copy of the Kitchen Conversion Chart Here
Don't forget to sign up for our email newsletter to stay up to date on new printables!