Life is unpredictable, and sometimes it can be challenging to keep up with everything that's going on. Whether you're dealing with work stress, relationship problems or just the ups and downs of everyday life, there's one thing that can always help: coffee. That's why I've compiled a set of printable kitchen wall art – Life Happens Coffee Helps that celebrates the power of coffee in our lives. These prints are perfect for adding a touch of inspiration to your morning routine or as a gift for the coffee lover in your life.
You can download the FREE Life Happens Coffee Helps digital packet at the bottom of the post. It includes 4 different options.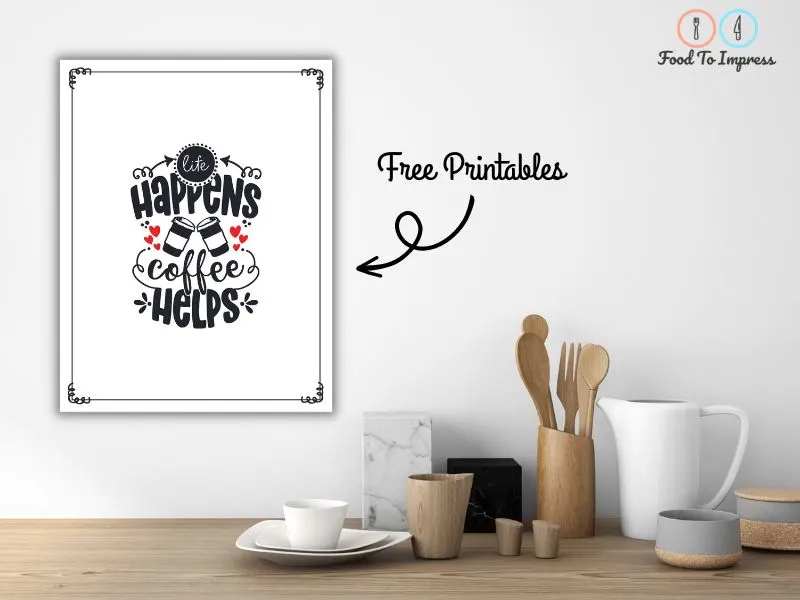 Taking a Coffee Break
I remember one particularly stressful day at work when I felt like everything was going wrong. Deadlines were looming, emails were piling up, and I couldn't seem to focus on anything for more than a few minutes at a time. As the afternoon wore on, my stress levels continued to rise until I felt like I was about to snap.
That's when I decided to take a break and make myself a cup of coffee. Standing in the break room waiting for the coffee maker to finish brewing, I took a few deep breaths and tried to clear my mind. When the coffee was ready, I poured myself a cup and returned to my desk.
As soon as I took that first sip of hot coffee, I felt myself start to relax. The warmth of the mug in my hands and the rich aroma of freshly brewed beans helped me forget about my worries for just a moment. And as I sat there savoring each sip, something amazing happened – my stress levels decreased.
When I finished my cup of coffee, I felt like a different person. My head was clearer, my focus had returned and I felt more energized than before. It wasn't a magic cure for all my problems, but taking that short break and enjoying a cup of coffee helped me reduce my stress levels and take some much-needed time for myself.
From that day on, whenever things started to get overwhelming at work or in life in general, taking a simple coffee break became one of my go-to strategies for reducing stress and finding some peace amidst the chaos. I usually add a little sweetness too – check out my list of the best cookies for coffee.
That is why this collection of life happens coffee helps sign is perfect to add to your office decor, kitchen wall, or shelf. And you will love the price – FREE!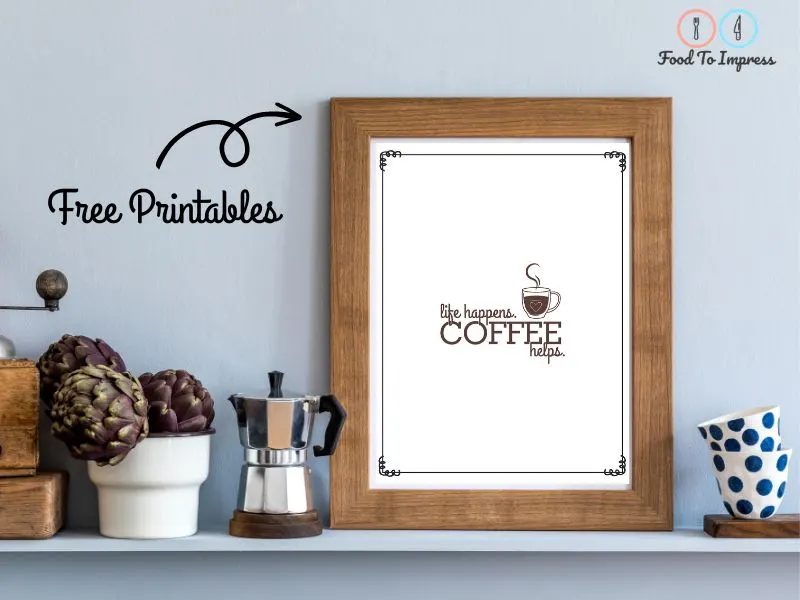 The Power of Coffee
There's something about the aroma of fresh coffee that can instantly lift our mood and make us feel more alert. For many people, coffee is an essential part of their daily routine, helping them to kick-start their day and stay focused throughout. But it's not just about the caffeine – there's also something comforting about the ritual of brewing a cup of coffee and taking a moment to enjoy it.
What is Included in the Life Happens Coffee Helps Sign Packet?
You will be able to choose between 4 different sign options. The Life Happens Coffee Helps PDF digital packet includes:
Black and white image with a coffee cup line drawing
Fun design with a pop of red colored hearts
Very simple brown design (that you could print in black)
Morning Cup of Coffee sign with Yellow and Brown tones
Check out more free printable kitchen wall art.
Try this coffee flavor wheel free printable too.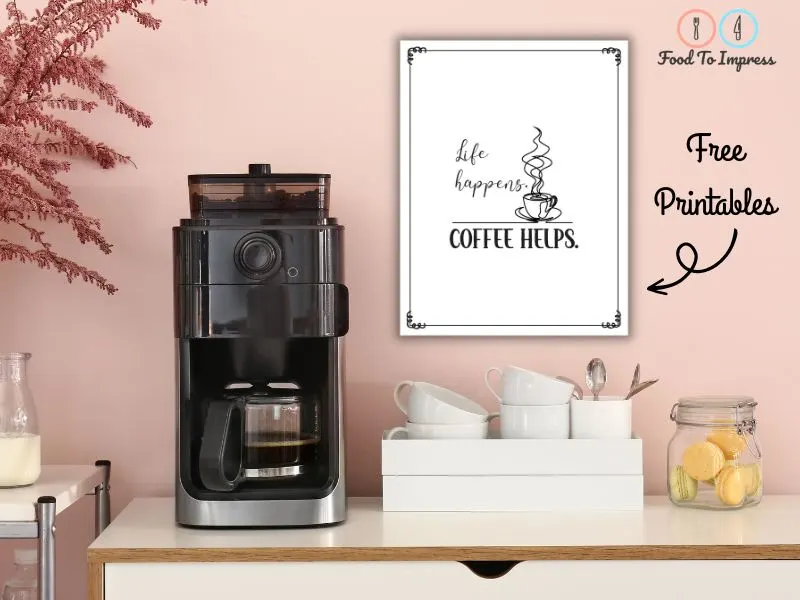 Printable Kitchen Wall Art
Our collection of printable kitchen wall art includes four different designs, each featuring an inspirational quote about the power of coffee. From "But first, coffee" to "Life happens, but coffee helps," these prints are sure to bring a smile to your face every time you see them. And because they're designed as printables, you can easily download them from our website and print them out at home.
How to Use Your Prints
These printable kitchen wall art prints are incredibly versatile and can be used in many different ways. Here are just a few ideas:
Frame them and hang them on your kitchen wall. A nice black wood frame would look great!
Use the Life Happens Coffee Helps sign as part of a gallery wall display
Print the Life Happens Coffee Helps on cardstock and use them as postcards or gift tags
Laminate them and use them as placemats or coasters
Give them as gifts to friends or family members who love coffee
Conclusion
In conclusion, life may have its challenges, but with a little bit of caffeine by our side, we can tackle anything that comes our way. Our printable kitchen wall art design celebrates the power of coffee in all its forms – from espresso shots to frothy lattes – and reminds us that sometimes all we need is a good cup of joe to get us through the day. True Story! So why not download our free set today and add some inspiration to your kitchen décor?