Printable kitchen wall art is a fantastic way to add personality and style to your home without breaking the bank. Not only are they affordable, but they're also incredibly flexible, making it easy to find designs that suit your taste and preferences. In this blog post, I am excited to offer readers a free downloadable print featuring the phrase "Good Food Good Mood." With five different design options to choose from, there's something for everyone.
You can download the FREE five page PDF with the printable kitchen wall art at the bottom of this post.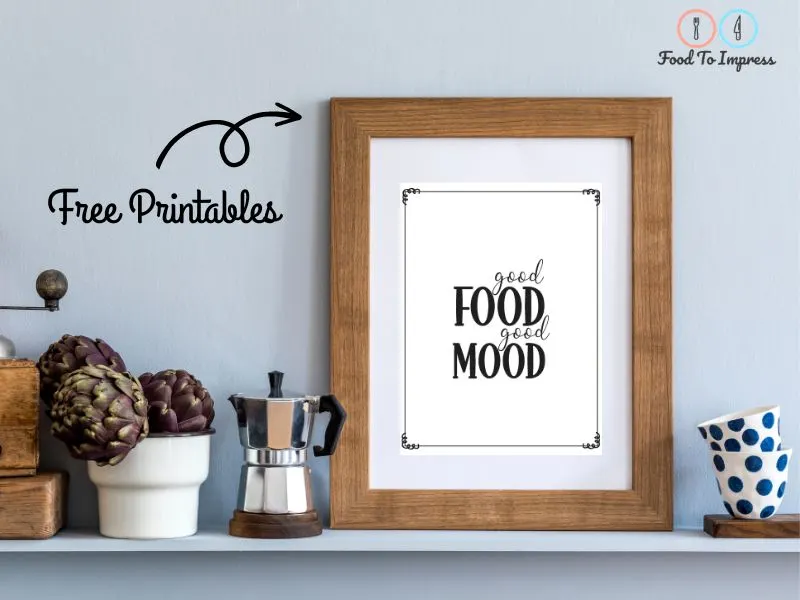 What Does Good Food Good Mood Mean?
Good food, good mood is a concept that highlights the importance of nutrition in maintaining both brain health and mental health. The food we eat directly affects our brain function and influences our mood, emotions, and behavior.
A diet rich in nutrients such as omega-3 fatty acids, B vitamins, and antioxidants has been linked to better cognitive function and lower rates of depression and anxiety. Conversely, a diet high in processed foods, sugar, and saturated fats may contribute to inflammation in the brain and increase the risk of developing mental health disorders. By prioritizing a balanced diet with plenty of whole foods, we can support our brain health and promote positive mental well-being.
Food affects our brain functions, nervous system, digestive system, circulatory system and more. When we eat healthy foods it keeps our blood sugar stable and our body at an appropriate weight.
What Foods Provide a Mood Lift?
It is a fact that eating the right foods can have a positive effect on your mental health, physical health, and well-being. There are several food groups that might help to provide a mood lift, including protein, nuts, legumes, veggies, fiber, seafood and vitamins.
Protein helps to boost serotonin levels which is important for maintaining good emotional balance while nuts and legumes contain healthy fats that help nourish your brain cells. Eating plenty of vegetables will ensure you get enough fiber to keep you fuller longer as well as providing essential vitamins and minerals needed for proper functioning of the body.
Seafood such as salmon or tuna contains omega-3 fatty acids which can reduce inflammation in the brain while whole wheat breads and brown rice are both excellent sources of complex carbohydrates which help maintain consistent energy levels throughout the day. Finally leafy greens like spinach or kale are packed with antioxidants which protect our brains from oxidative stress caused by free radicals.
By incorporating all these food groups into your diet regularly you can enjoy a steady supply of mood lifting nutrients! So next time you're planning your meals, make sure to include some of these foods for optimal mental health.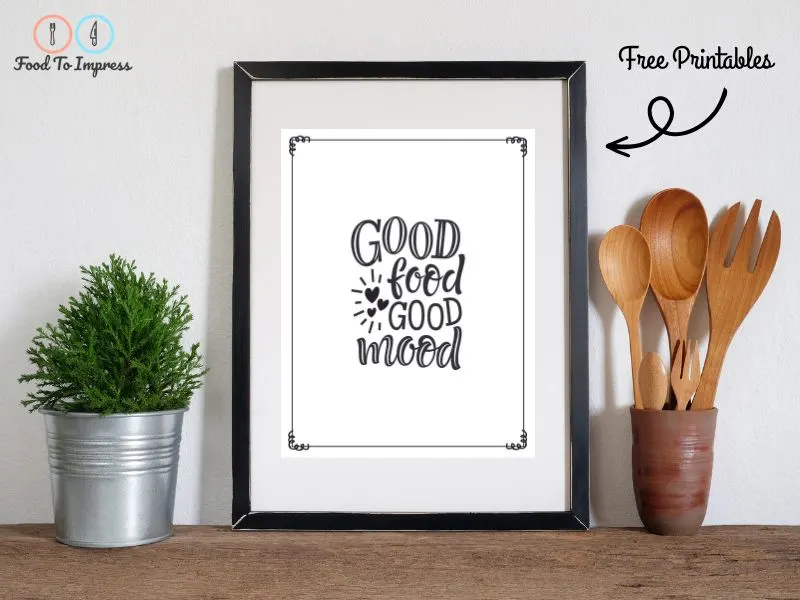 Introducing the "Good Food Good Mood" Print
I'm thrilled to offer my readers a free downloadable print featuring the phrase "Good Food Good Mood." The print comes in five unique design options so that you can choose one that best suits your style and preferences. You can use hang this in your kitchen to remind yourself to eat healthy foods like whole grains, leafy greens, protein and more. (Don't forget to get adequate sleep too).
All of the designs feature minimalist black lettering against an off-white background with small illustrations of utensils and cooking tools.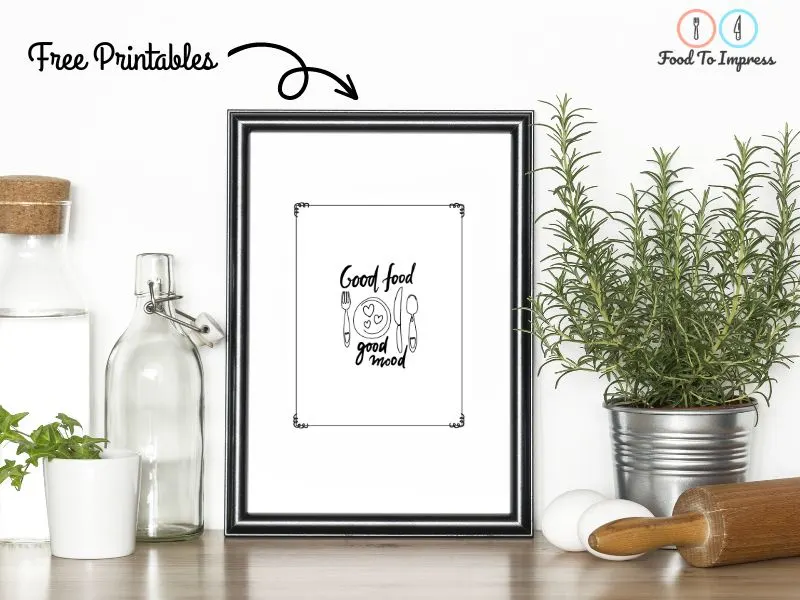 How to Download and Print Your Free Wall Art
To download your chosen design(s), simply follow these simple steps:
1. Choose which design(s) you would like to download.
2. Sign up to say informed about all of our freebies.
3. Click on the link to download your chosen design(s).
4. Save the file(s) onto your computer or device.
5. Print out your chosen design(s) at home or take them to a local printing shop (such as FedEx Office).
Benefits of Printable Kitchen Wall Art
One of the most significant benefits of printable kitchen wall art is its affordability. Instead of spending hundreds of dollars on expensive artwork, you can find high-quality designs online that you can print at home or at a local printing shop for a fraction of the cost. This makes it an ideal option for those who are decorating their homes on a budget.
Another advantage is the flexibility that printable kitchen wall art offers. You have complete control over the size and color scheme of the artwork since they are digital files. You can also easily swap out designs whenever you want to refresh your decor without investing in new pieces.
Need more printable kitchen wall art? Check out the full collection.
Creative Ways to Display Your Wall Art
Once you've downloaded and printed out your free "Good Food Good Mood" print(s), it's time to think about creative ways to display them in your kitchen!
One idea is creating a gallery-style arrangement by grouping several prints together on one wall space using frames in various sizes and styles.
Another idea is displaying prints above a bar cart or beverage station where guests can see them while enjoying drinks or snacks.
Consider incorporating prints into open shelving displays by propping them up against cookbooks or placing them inside picture frames on shelves alongside other decorative items like plants or knick-knacks.
Printable kitchen wall art is an affordable and flexible way to add personality and style to any home decor theme! I hope you enjoy your free "Good Food Good Mood" prints – available in five unique designs – as much as I enjoyed making the kitchen pritables! Remember good food equals good mood!
If you love our free printables, recipe ideas and tips, share this post on social media.
DOWNLOAD YOUR FREE GOOD FOOD GOOD MOOD PRINTABLES HERE