Coffee lovers, rejoice! We have compiled a list of the best cookies to pair with your favorite cup of joe. Whether you prefer your coffee black or with a shot of espresso, there's a cookie type here for everyone. So, let's dive into these delectable cookie options that complement your coffee perfectly. These are the BEST cookies for coffee.
I am a huge coffee lover and every time I have a cup, I pair it with a little sweetness. If you love coffee just as much as me, check out these free printable too – Life Happens, Coffee Helps.
Add this coffee flavor wheel to help you decide what cookies go best with what type of coffee flavors.
Cookies are my favorite choices to compliment buy black coffee. Here are a few of my personal favorites.
Sugar Cookies
First and foremost, I like a nice golden brown, sugar cookie with extra vanilla extract in the recipe. The best part of this cookies is that it allows the coffee flavor to stand out. Even better if there is some fine powder sugar on top! Messy but oh so delicious.
Chewy Coffee Cookies
These chewy coffee cookies are the perfect marriage of coffee flavor and a soft, gooey texture. Infused with instant coffee or instant espresso powder, these cookies bring out the best in your coffee. The use of dark brown sugar and unsalted butter adds a rich flavor and chewiness, while chocolate chunks or white chocolate chips cater to your personal preference. Enjoy these cookies with a hot cup of coffee and savor the harmony of flavors.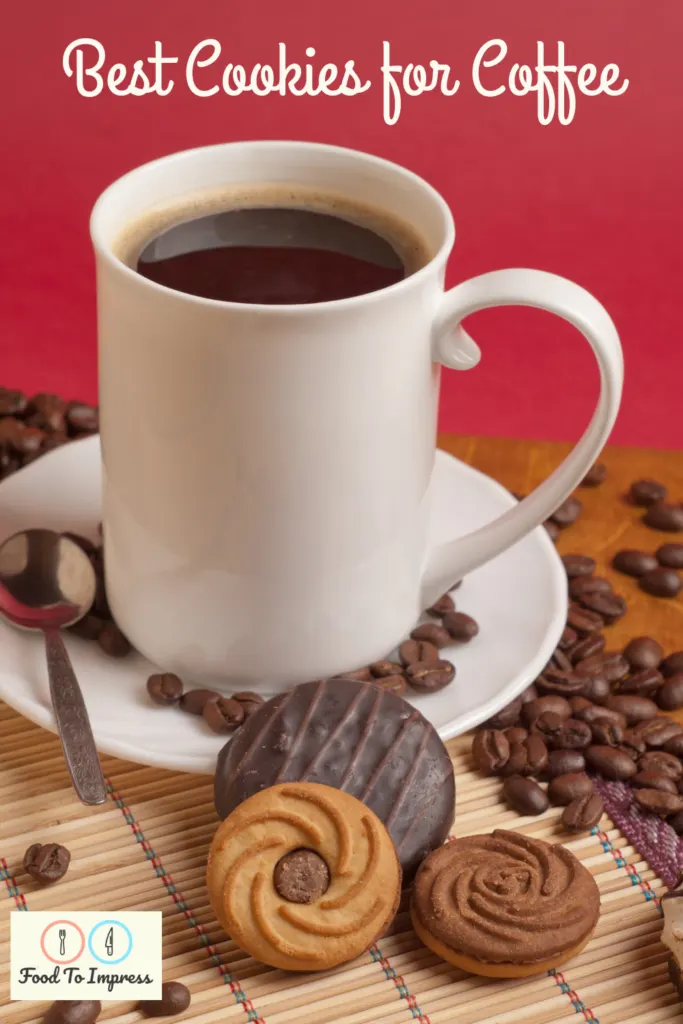 Espresso Chocolate Chip Cookies
Espresso chocolate chip cookies offer a delightful combination of dark chocolate chips and a strong coffee flavor, courtesy of instant espresso powder. Made with almond flour and coconut sugar, these cookies provide a gluten-free option for coffee lovers with dietary restrictions. Paired with a strong black coffee or a creamy latte, these espresso cookies are a dream come true for coffee enthusiasts. See the recipe below.
Italian Biscotti – One of the Best Cookies for Coffee
An Italian biscuit, biscotti is a classic cookie to enjoy with your cup of coffee. Biscotti are twice-baked, making them perfect for dipping in your coffee without becoming too soggy. These cookies come in a variety of flavors, such as almond, chocolate, or cranberry, allowing you to choose based on your personal preference. The main ingredients of biscotti include flour, sugar, eggs, and nuts, resulting in a crunchy and delicious cookie.
Brownie-style Cookies
For those who love the rich, chocolate flavor of brownies, brownie-style cookies are a fantastic choice to pair with your coffee. These cookies have a fudgy, gooey chocolate center and a slightly crispy exterior. Using dark chocolate, unsalted butter, and a mix of white sugar and dark brown sugar, these cookies offer an irresistible taste. Enjoy them with a strong espresso or a glass of milk for a delightful experience.
Small Batch Chocolate Chip Cookies
Make a small batch of chocolate chip cookies. They are perfect for those who enjoy a little extra chocolate with their coffee. These cookies contain extra chocolate chips, creating a decadent experience. Paired with a cup of coffee or a shot of espresso, these cookies are sure to satisfy your sweet tooth. I just halve the traditional chocolate chip recipe for the best results. Use a small cookie scoop and you are all set!
Macaroons – Add them to the List of Best Cookies for Coffee
For a light and airy option, macaroons are a great choice to pair with your coffee. Made with egg whites, sugar, and finely ground almonds or coconut, these cookies have a delicate texture that melts in your mouth. Enjoy them with a cappuccino or a latte for a delightful afternoon treat. I have tried making these myself but have much better luck it I purchase the store bought version.
Coffee Drizzle Cookies
Coffee drizzle cookies are a wonderful option for those who appreciate a visually appealing cookie. These cookies can be made with any type of cookie base, such as sugar cookies or shortbread, and are drizzled with a coffee-infused glaze. The coffee drizzle adds an extra layer of flavor, making them an ideal accompaniment to your cup of joe.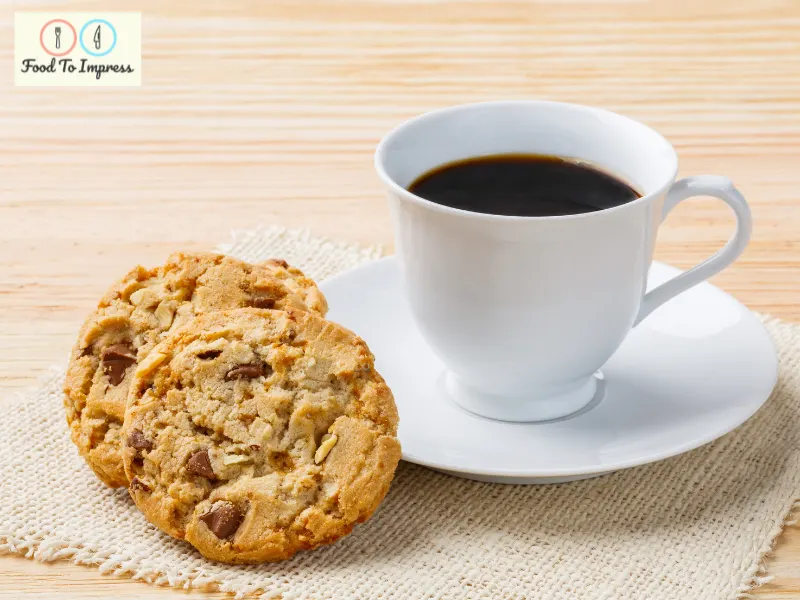 Espresso Chocolate Chip Cookies Recipe
Ingredients:
½ cup unsalted butter, melted
¾ cup white sugar
1 large egg
1 teaspoon vanilla extract
1 tablespoon hot water
1 tablespoon instant espresso powder
2 cups flour
½ teaspoon baking soda
¼ teaspoon salt
1 cup dark chocolate chips (or white chocolate chips, if preferred)
OPTIONAL: 1/2 cup of your favorite nuts, I recommend chopped almonds
Instructions:
In a small bowl, dissolve the instant espresso powder in hot water, and set aside.
In a large bowl, combine the melted unsalted butter and sugar using a hand mixer or electric mixer. Add the egg, vanilla extract, and the espresso mixture, mixing until well combined.
In a medium bowl, whisk together the flour, baking soda, and salt. Gradually add the dry ingredients to the wet ingredients, mixing on medium speed until just combined. Fold in the dark chocolate chips using a spatula.
Cover the cookie dough with plastic wrap and chill in the refrigerator for 1-2 hours.
Preheat your oven to 350°F (175°C). Line a baking sheet with parchment paper.
Scoop out cookie dough balls (about 2 tablespoons each) and place them on the lined baking sheet, spacing them about 2 inches apart.
Bake for 10-12 minutes, or until the edges are golden brown. Allow the cookies to cool on the baking sheet for 1-2 minutes before transferring them to a cooling rack to cool completely.
Tips for the Perfect Espresso Chocolate Chip Cookie:
If you want an extra kick of coffee flavor, add a coffee drizzle on top of the baked cookies.
Store cookies in an airtight container to maintain their freshness.
Feel free to adjust the amount of instant espresso powder based on your personal preference for coffee strength.
If you do not have espresso powder you can add one tablespoon of VERY strong brewed coffee
Read here if the cookies are too cakey
Conclusion
There you have it, a list of the best cookies to enjoy with your coffee. Whether you prefer chewy coffee cookies, espresso chocolate chip cookies, or even a light and airy macaroon, there's a cookie option for every coffee lover. So, next time you brew a cup of coffee, don't forget to treat yourself to one of these delicious cookies for the ultimate coffee experience.