Have you ever felt perplexed by the intricate world of coffee flavors? Do you long to distinguish and appreciate the subtle notes and undertones in your morning brew? To guide you on this journey, we are here with our printable coffee flavor wheel. By the end of this post, you'll be equipped to unravel the nuances of coffee tasting like a pro. This printable coffee flavor wheel is available for free download at the end of the post. Let's get started!
HOW TO USE THE PRINTABLE COFFEE FLAVOR WHEEL
Similar to the aroma wheel used by wine lovers, a coffee flavor wheel is a tool designed to help identify and articulate the various flavors and aromas in your cup of joe. It works as a compass, steering you through the exciting terrain of coffee tasting.
The wheel is sectioned into layers, starting from the center with primary flavors and broadening outward into more specific notes. To use the wheel, begin by brewing your specialty coffee – a French press is a good option for this exercise. Allow yourself a moment to inhale the aroma, then take a sip. Swirl the coffee around your palate to ensure it reaches all of your taste buds. Now, it's time to consult the coffee flavor wheel. Can you spot any of the primary flavors? What about secondary or tertiary notes?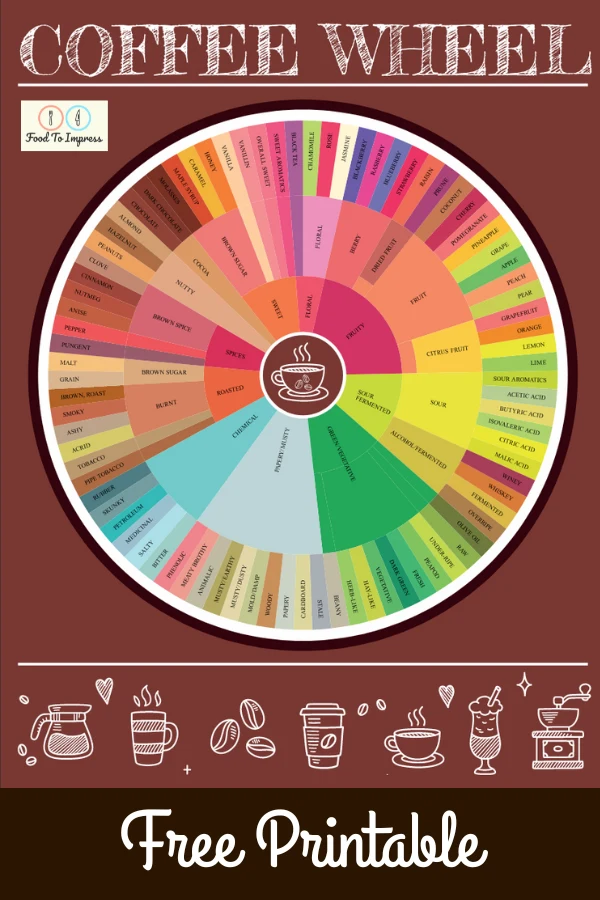 The printable coffee flavor wheel acts as a visual guide, enhancing your ability to recognize and describe the different flavors in your cup.
WHEN TO USE THE COFFEE FLAVOR WHEEL
The coffee flavor wheel can be utilized anytime you want to explore a new coffee variety or deepen your understanding and appreciation of your favorite blends. For example, aficionados of Counter Culture Coffee find the coffee flavor wheel invaluable in identifying the unique taste profiles of different beans.
Just as wine enthusiasts use wine flavor wheels to distinguish the nuanced flavors of white wines and young wines, you can use the coffee flavor wheel to discover the distinct flavor points of different coffees. If you're sampling a new brew, take a few minutes with the flavor wheel to uncover its unique taste profile.
The flavor wheel is also a useful tool during coffee tasting events. Invite some friends over, brew a variety of coffees, and use the flavor wheel to guide your tasting experience. Sharing your findings and discussions around the flavor wheel can make the coffee tasting experience more engaging and enjoyable.
BENEFITS OF UNDERSTANDING COFFEE FLAVOR
Understanding coffee flavor does more than simply equip you with impressive coffee terminology. It's about elevating your coffee-drinking experience, much like how the taste of herbs flavor wheel enriches the culinary world.
Borrowing inspiration from the World Coffee Research Sensory Lexicon, the coffee flavor wheel allows you to navigate the broad spectrum of flavor maps that coffee has to offer. It's akin to having an art print of flavors at your fingertips. When you understand coffee flavors, you can make informed decisions about what beans to buy, and how to brew them to highlight your preferred flavors.
GET YOUR PRINTABLE COFFEE FLAVOR WHEEL HERE
The world of coffee need not be daunting. With our printable coffee flavor wheel, you can start uncovering the complex flavors and aromas that make each cup of coffee unique. This will not only enrich your coffee-drinking experience but also make choosing your next coffee an exciting adventure rather than a guessing game.
If coffee makes you happy, check out these free coffee printables too or the best cookies to have with coffee.
Ready to embark on your coffee tasting journey? Click here to download your free printable coffee flavor wheel. It's available in a handy flavor wheel PDF format, so you can print it out within a matter of minutes. And the best part? It's absolutely free and comes in a printable version that you can effortlessly print and utilize. Happy tasting!