There is a popular phrase that often rings true in homes across the world: "meals and memories are made here". This sentiment couldn't be more accurate, especially in the heart of our homes – the kitchen and the dining room. This is where the magic of food brings families and friends together, creating a treasure trove of unforgettable memories.
You can download the FREE printable of the four-page PDF of printable kitchen wall art at the bottom of the post.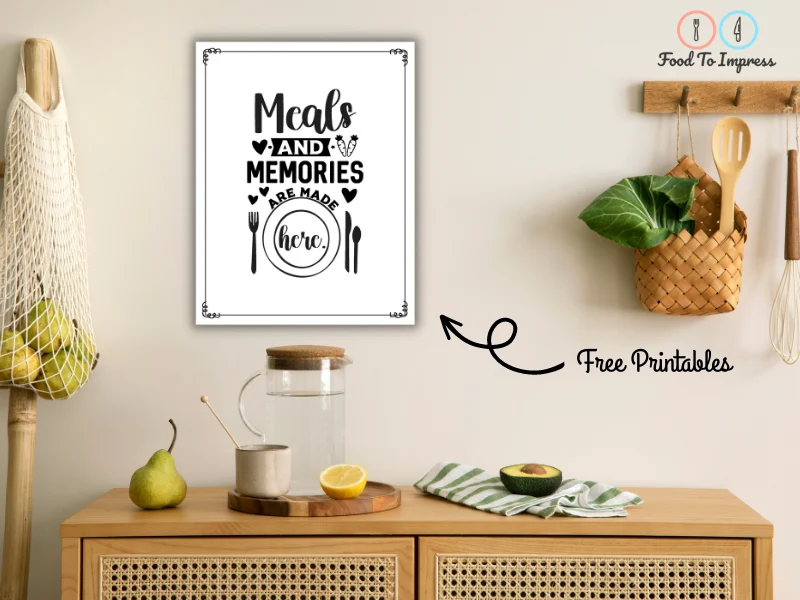 A Short and Sweet Memory
I still remember the aroma of Grandma's apple pie wafting from the kitchen, filling every corner of the house. Each bite of that sweet, crispy pie was a testament to her love, always reminding us of the importance of togetherness. Those meals were not just about the food; they were about laughter, conversations, and connections that we built around the dinner table. These moments still linger, etched in my heart, reminding me that meals are not only about nourishment, but also about creating lasting memories.
Free Printable Kitchen Wall Art
Decorating your kitchen or dining room can be a fun and fulfilling task. It's like dressing up the memory factory of your home. To make this task easier and more fun for you, we have created an assortment of FREE printable kitchen wall art. You can download a four-page PDF directly to your mobile device and add that special touch to your home decor. Find more ideas and perfect results here and here.
Tips for Printable Wall Art
Sizing Your Wall Art
Firstly, consider the size options available. Size plays a vital role in the overall appearance of your wall decor. Make sure the print you select fills up your desired wall space appropriately.
Custom Orders
If you're looking for a specific design or message for your kitchen, you can consider custom orders. Don't hesitate to reach out to the creators to tailor a design that will make your kitchen space more personal and memorable.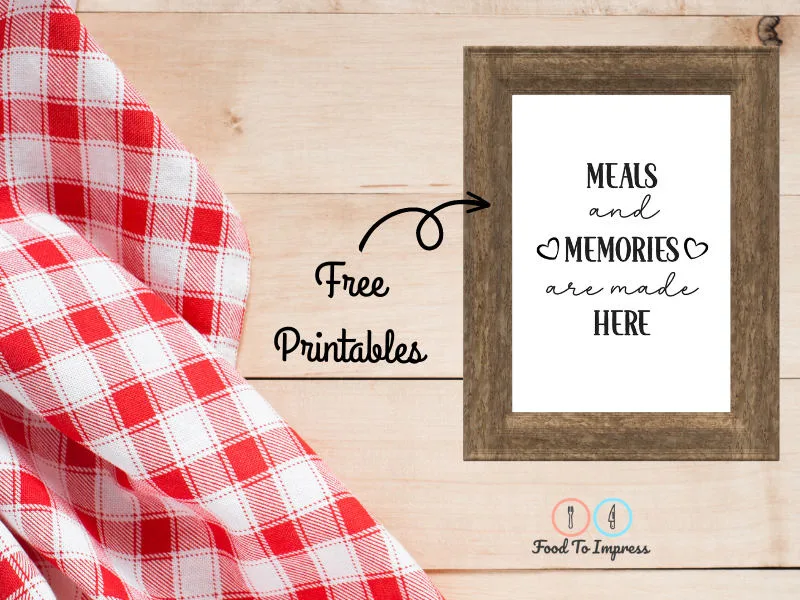 Hanging Your Meals and Memories are Made Here Wall Art
Once you've chosen and printed your favorite designs, consider using a saw tooth hanger for easy hanging. This will ensure your wall art is secure and perfectly aligned on your wall.
Wall Art as a Great Gift
Thinking about a unique, thoughtful gift for a loved one? Custom wall art makes a great gift. Add their favorite quote or a sweet message to make it even more personal.
Wood Products and Natural Imperfections
Remember that if you decide to print your wall art on wooden signs, there may be slight variations and natural imperfections. But that's part of the charm, making each piece unique.
Colour and Background Options
Choosing the right color for your print is important. Opt for colors that complement your kitchen's aesthetic. If your kitchen is vibrant and colorful, consider designs with white backgrounds to make them stand out.
Conclusion
Regardless of your choices, remember that every Meals and Memories are Made Here sign you put up reminds you of the meals and memories made in your space. Whether printed on a full page or a small wooden sign, the sentiment behind it truly makes your kitchen or dining room special.
Enjoy our free shipping for these digital printables and start making your home even more memorable today.
Download your FREE Meals and Memories are Made Here Free Printables