When it comes to the heart of the home, there is no denying that this kitchen is seasoned with love. The tantalizing smells of simmering stew, the comforting hum of the refrigerator, the soft clinking of the cutlery in the drawer – all of these details and more add a dash of warmth that transforms a mere cooking area into a love-filled haven. But how exactly do we distill this love, you ask? And how can you make it more tangible? Well, our free printable, titled "This Kitchen is Seasoned with Love," can do just that.
Why the Kitchen is Seasoned with Love
Any kitchen isn't extraordinary because of its state-of-the-art appliances or extravagant layout; instead, it was the most loved place because of its inhabitants. Think of a time when you were in the kitchen with your grandmother or another relative cooking and preparing food. –
My grandmother was a spectacular cook, her dishes teeming with flavor and warmth. They were mouth-watering, but what truly made them special was the palpable love she poured into each dish. As a child, watching and learning imbibed this love, understanding that cooking wasn't just about feeding bodies but also nourishing souls. After my grandmother died, I frequently have vivid memories of her cooking infused with the same love and care.
Today, our printable celebrates this story of love passed down through generations, encapsulated in the simple yet profound phrase, "This Kitchen is Seasoned with Love."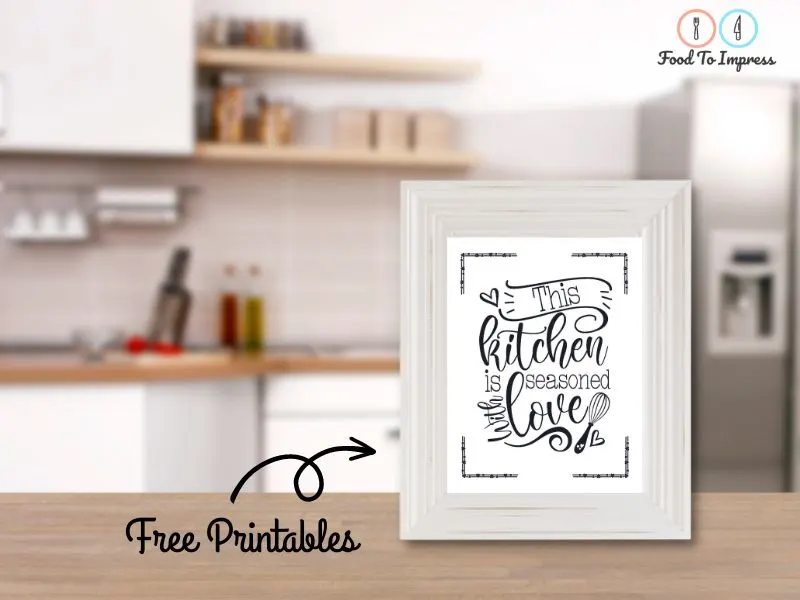 How to Download the FREE "This Kitchen is Seasoned with Love" Printable
Downloading this special gift is as easy as pie. To begin with, click on the link at the bottom of the post. Click the "Download Now" button and the file will automatically save onto your computer. Easy, isn't it?
Suggestions for Where to Hang the Printable
The location where you hang this printable can significantly influence the ambiance of your kitchen. Above the stove can be an excellent spot, reminding you of the love that goes into every dish you prepare. Or, you could consider hanging it near the dining table, bringing the essence of love into every meal you share with your loved ones.
If you have an open kitchen layout, hanging it on a wall visible from the living area can create a sense of warmth and love throughout your home. And if you're feeling especially creative, why not frame it and make it the centerpiece of a photo wall filled with family pictures and cherished memories?
What is Included in the Free PDF
When you download the free PDF, you'll find three unique printables – a beautiful, black and white hand-lettered printable carrying the warm phrase, "This Kitchen is Seasoned with Love," and two captivating black, white, and red illustrations that embody the spirit of a love-infused kitchen.
With their simple yet appealing designs, these printables can effortlessly transform your kitchen into a visual representation of the love that seasons every dish.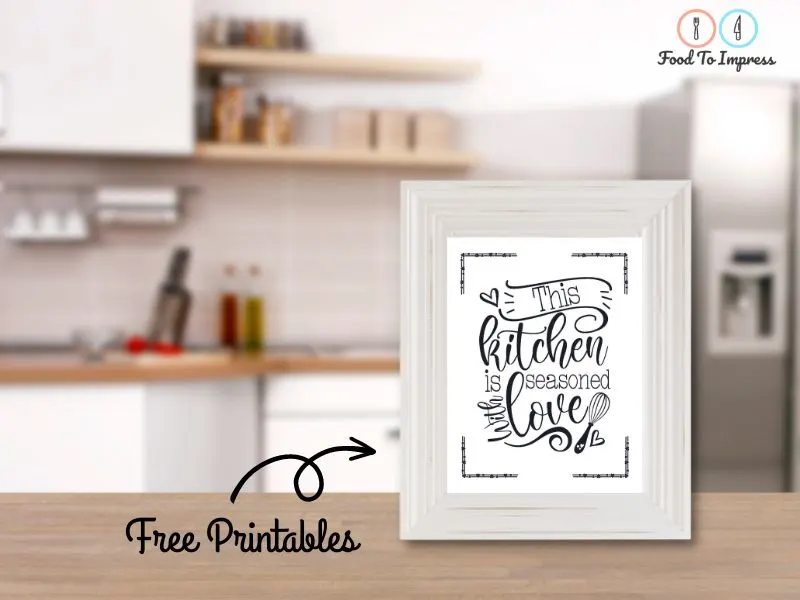 Don't forget, this isn't the only free printable we offer. You can check out our complete collection of kitchen wall art here. Or perhaps you're interested in our adorable "This Kitchen is for Dancing" sign? If so, find it here.
The kitchen is indeed a place where love resides, seasoned into every dish, baked into every dessert, and poured into every cup. By adding our "This Kitchen is Seasoned with Love" printable to your kitchen, you are celebrating this love and turning your kitchen into a warm, inviting place where loved ones gather to share meals, stories, and life's greatest moments.