If you're in the mood for a homemade bread that's both delicious and easy to make, look no further than sourdough focaccia. This classic Italian bread is perfect for everything from dipping in olive oil to topping with your favorite ingredients. Plus, it only takes a few hours to make start to finish. Here's everything you need to know about making sourdough focaccia at home.
What is Focaccia Bread and Why Is It So Delicious?
Focaccia bread is an Italian style flatbread that's a favorite of people around the world. Characteristically topped with herbs, onions, and olives, Focaccia bread has a slightly chewy texture and made from a combination of wheat flour, olive oil, water, yeast, salt and time. The perfect balance between soft interior and caramelized top makes it almost irresistible to fans of bread products. Making Focaccia bread is an art form in itself – temperature control, amount of time spent rising – each baker tucks in additional ingredients or methods to create their own special recipe. Whether served as an appetizer or as part of a full meal, Focaccia bread is sure to be a hit!
Is Sourdough Focaccia Healthy?
Sourdough focaccia is the perfect combination of delicious flavors and a healthy snack. It's made with whole wheat flour, and the sourdough bread starter gives it extra flavor and texture. Plus, since there aren't many processed ingredients in focaccia, you can feel good about what you're eating. Also, depending on the toppings you choose, it can be rich in fiber, protein, vitamins, and minerals. For instance, olives are high in healthy fats while rosemary provides antioxidant benefits. So if you're wondering if sourdough focaccia is healthy – absolutely!
If you like these flavors, try the Rosemary Sourdough Bread Recipe too!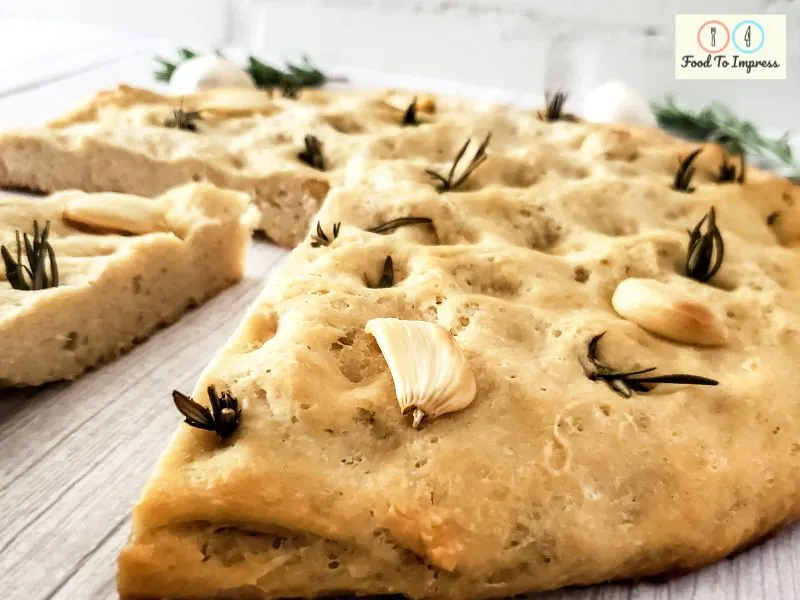 How to Make a Simple Sourdough Focaccia at Home
Making a delicious sourdough focaccia at home is not as difficult as it sounds. To start, you'll need to prepare your sourdough starter. This can take anywhere from five to fourteen days and requires careful maintenance. When the starter is ready, all that's left to do is combine the ingredients with some elbow grease and patience.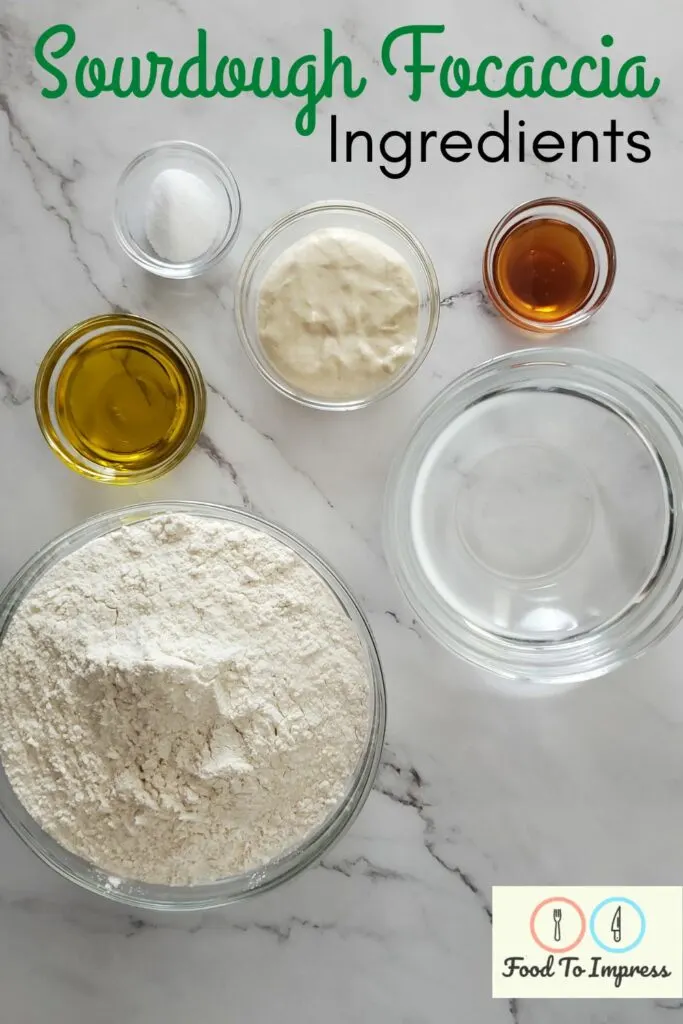 Sourdough Focaccia Ingredients
Ingredients
· 1/4 cup bubbly, active starter
· 1 2/3 cups water
· 1 tbsp honey
· 2 1/2 cups bread flour or all-purpose flour
· 1/2 tbsp fine sea salt
· 2-3 tbsp extra virgin olive oil
· Rosemary
· 3-5 garlic cloves
Prep: 1.5 hours, Rise time: 12+ hours Cook: 30 minutes Total time: 14+ hours
Yields: 1 large focaccia
Sourdough Focaccia Recipe
1. In a large bowl, mix together the active sourdough starter, water and honey until it is incorporated.
2. Add in the flour and salt and mix well. Once the dough starts to come together, transfer it to your work surface and use your hands to continue mixing it into a rough dough. The dough will be very wet and sticky. Cover the dough with a clean towel and let the dough rest for 30-60 minutes.
3. Use your hands to form the dough back into a ball and transfer the dough to a lightly greased bowl, and cover the bowl with plastic wrap that has been lightly greased. Let the bowl sit for 12+ hours at room temperature, approximately 68-70°F. Warmer temperatures will rise quicker, so use the clock as a general guide, but the dough will be ready when it is at least doubled in size.
4. Drizzle the 2 to 3 tablespoons of olive oil on the pan. Use your fingers to spread the olive oil onto the pan, carefully transfer the dough onto the pan, then flip the bread over so both sides become oiled. Then, use your fingertips to press into the dough to form dimples. Start on one end and move toward the other. The bread will expand as you press into it.
5. Press fresh rosemary pieces into the folds and dimples of the dough. If the garlic cloves are large, cut them in half and place them on top of the focaccia, but leave the wrapper on the garlic to prevent the garlic from burning.
6. On the center rack, bake at 400 degrees in the oven for 35-30 minutes until the bread is golden brown and crispy. Allow the focaccia to cool completely before cutting.
Note: You can make your own sourdough starter from scratch, or purchase one to activate. I recommend this one from King Arthur if you are going to purchase one.
Equipment:
Rimmed 9×13 baking tray or large cast iron pan
Large bowl
Plastic wrap
Clean towel
With the right technique, you'll have a crunchy, flavorful focaccia that would be welcomed at any dinner table!
You can use a stand mixer with a dough hook attachment if you prefer that to a large mixing bowl.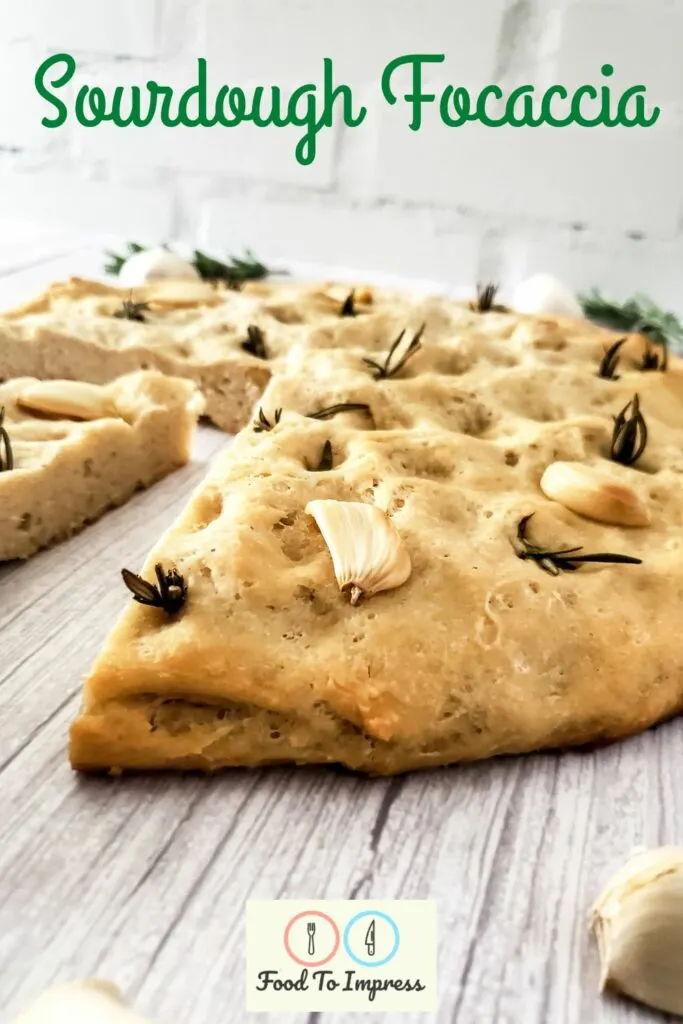 Tips for Shaping and Baking Sourdough Focaccia Bread
Creating your own delicious focaccia from scratch can seem daunting, but don't let it intimidate you! With the right ingredients and instructions, baking sourdough focaccia at home is actually pretty simple. Here are 5 tips for a perfect sourdough focaccia:
1. Allow enough time for the dough to rise–at least 12 hours, but preferably 24-36 hours. This will give you a light and airy texture.
2. Use the dimpling technique when shaping your focaccia. This helps create pockets for the olive oil to seep into and give you a crunchy crust.
3. Use fresh herbs and garlic to bring out the flavor of the focaccia.
4. Use a baking stone or pizza stone to help create an evenly cooked and crunchy crust.
5. Don't forget the finishing touches! Add a sprinkle of coarse sea salt, herbs, and/or cheese to your focaccia before baking. This will help enhance the flavor and texture.
Read more here if your sourdough is too sticky.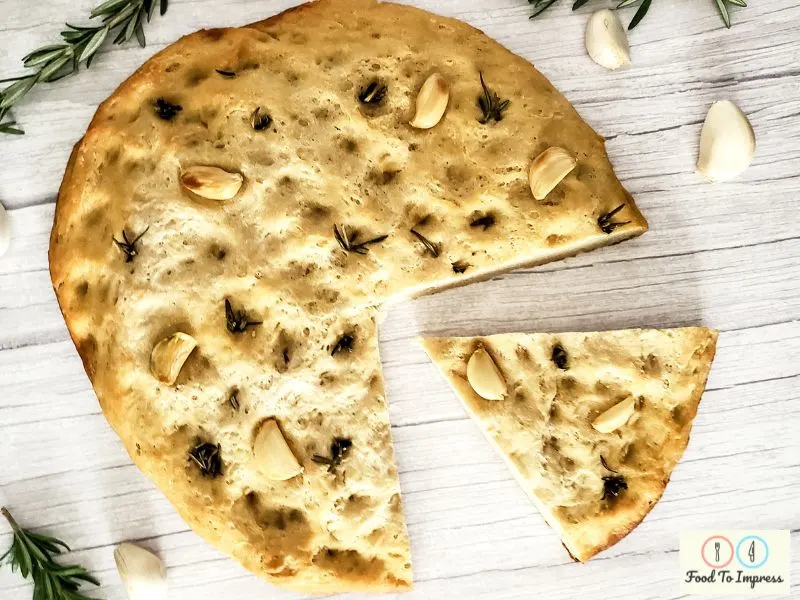 Topping Ideas and Pairings for Your Sourdough Focaccia
Sourdough focaccia is a tasty and savory treat that can be enjoyed in numerous ways. We suggest trying different toppings and combinations if you're looking for ideas on how to elevate your sourdough focaccia experience:
Roasted vegetables
marinated artichokes
caramelized onions
cherry tomatoes
freshly grated parmesan cheese
dried salami
olives
goat cheese
prosciutto
pesto and more!
Pair any of these delicious toppings with flavorful herbs such as oregano, thyme, basil, or rosemary for an even more robust experience. Whatever ingredients you decide to pair with your sourdough focaccia, the key is to have fun experimenting – that's half the fun!
Sourdough focaccia makes an amazing sandwich bread, side for soup, or a delicious lunch. Read more on how to store your sourdough bread.
If you like this recipe, you are sure to love sourdough bread pizza too!
Focaccia is a delicious, versatile bread that can be made at home with sourdough starter. And don't forget if you make too much, you can always freeze focaccia. Sourdough focaccia is healthy and easy to make with simple tips and techniques. Be sure to try out different toppings and pairings for your focaccia. There are endless possibilities!