There's something special about the fragrance and flavor of fresh rosemary that adds an extra dimension to your homemade bread. If you're a fan of sourdough and fragrant herbs, this Rosemary Sourdough Bread recipe will quickly become a favorite in your kitchen. This deliciously flavored bread can be served with a variety of meals, or simply enjoyed on its own.
Rosemary Sourdough Bread has a unique and delightful flavor profile. The rosemary adds a fragrant, earthy, and slightly minty taste to the bread, while the sourdough base provides a tangy and complex flavor. This combination results in a delicious, aromatic bread that can elevate any meal.
Health Benefits of Rosemary Sourdough Bread
Incorporating rosemary into your sourdough bread not only adds flavor, but also provides some health benefits. Rosemary is known for its antioxidant and anti-inflammatory properties, and it is a good source of vitamins and minerals, such as vitamin C, calcium, and iron.
Sourdough bread itself is beneficial because the fermentation process used in its preparation helps break down phytic acid, which can inhibit the absorption of certain nutrients. This makes sourdough bread more digestible and its nutrients more bioavailable than bread made with commercial yeast.
Also, if you are careful with your ingredients, sourdough bread can be dairy free!
Pairing Ideas for Rosemary Sourdough Bread Recipe
Rosemary Sourdough Bread pairs exceptionally well with a variety of foods, making it a versatile addition to your meals. Some pairing ideas include:
Soups and stews: The earthy flavor of the rosemary complements hearty dishes like tomato soup, minestrone, or vegetable stew. The bread's crusty exterior also makes it perfect for dipping and soaking up the flavorful broth.
Charcuterie and cheese boards: The distinct flavors of rosemary sourdough bread enhance the taste of various cheeses, cured meats, olives, and spreads, adding depth and complexity to your board.
Sandwiches: Use this bread as a base for your favorite sandwiches, such as turkey, avocado, and provolone, or roasted vegetables with goat cheese. Try making Sourdough Foccacia too!
Bruschetta: Toast slices of rosemary sourdough bread and top them with fresh tomatoes, basil, and mozzarella, or experiment with other toppings like artichokes, sun-dried tomatoes, and feta cheese.
Salads: Serve the bread alongside salads featuring strong flavors, such as a Mediterranean salad with olives, feta, and roasted red peppers or a Caesar salad with anchovies and Parmesan cheese.
Grilled meats and vegetables: The earthy flavors of rosemary sourdough bread complement grilled meats like chicken, beef, or lamb, as well as grilled vegetables like bell peppers, eggplant, and zucchini.
Rosemary Sourdough Bread offers a unique combination of flavors and aromas that make it a delicious and versatile option for any meal. The health benefits of rosemary and sourdough also make it a nutritious choice. With various pairing possibilities, this bread will surely become a favorite addition to your culinary repertoire.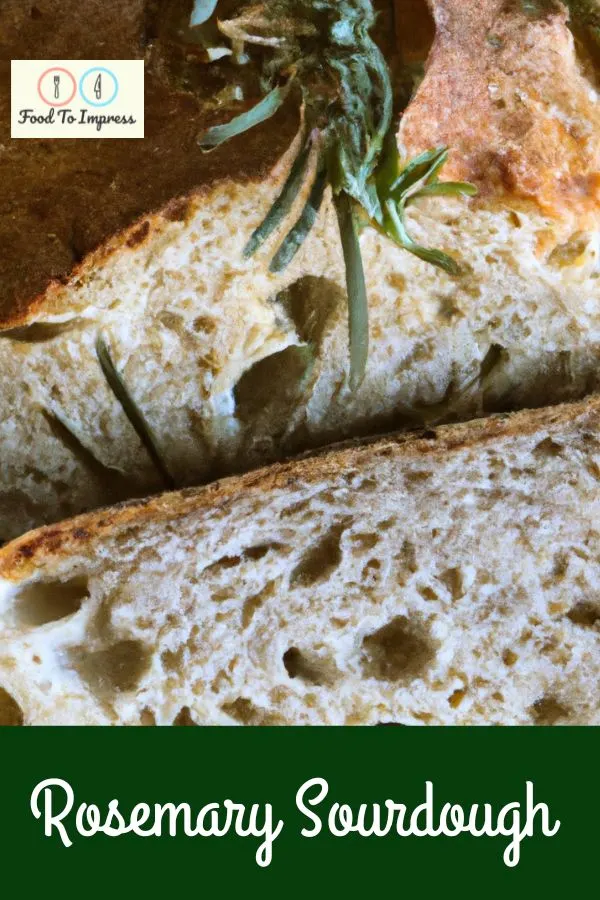 Ingredients for the Rosemary Sourdough Bread
1 cup (240g) active sourdough starter
2 cups (480g) warm water
4 cups (480g) bread flour
1 cup (120g) whole wheat flour
2 tsp (10g) sea salt
1/4 cup (60g) fresh rosemary, finely chopped (or 2 tbsp dried rosemary)
Optional: roasted garlic cloves, parmesan cheese, lemon zest
Equipment
Dutch oven
Large mixing bowl
Wooden spoon or dough whisk
Dough scraper or bench scraper
Kitchen scale
Stand mixer (optional)
Plastic wrap or damp towel
Parchment paper
Sharp knife
Wire rack
Instructions
Mix the Dough
Combine the active sourdough starter and warm water in a large mixing bowl. Stir well with a wooden spoon or dough whisk. Add the bread flour and whole wheat flour to the mixture. Stir until a rough dough forms. Let the dough rest for 30 minutes, covered with a damp towel or plastic wrap. This rest period, known as autolyse, helps break down phytic acid, making the bread more digestible.
Add Salt, Rosemary, and Optional Ingredients
After the rest period, add the sea salt and finely chopped fresh rosemary to the dough. If you want to enhance the flavor, you can also add optional ingredients like roasted garlic cloves, parmesan cheese, or lemon zest. Mix the dough using a wooden spoon or your hands until well combined. If you have a stand mixer, you can use the dough hook attachment to mix for the best results.
Bulk Fermentation
Cover the dough with a damp towel or plastic wrap and let it rest at room temperature for 3-4 hours. During this time, perform sets of stretch and folds every 30 minutes to help develop the dough's structure.
Shaping the Dough
On a clean, floured work surface, gently shape the dough into a round loaf. Place the shaped dough on a sheet of parchment paper and cover it with a clean kitchen towel. Let the dough rise for the final time, which will take approximately 2-3 hours.
Preheat Oven and Dutch Oven
When the dough has almost finished its final rise, preheat your oven to 475°F (245°C). Place the Dutch oven inside the oven to heat up as well.
Score and Bake the Bread
Once the oven has reached the desired temperature, carefully remove the hot Dutch oven. Transfer the dough with the parchment paper into the Dutch oven. Score the top of the dough with a razor blade or sharp knife to create a pattern or simply a straight line. This will help the bread expand during baking.
Cover the Dutch oven with its lid and bake for 30 minutes. Then, remove the lid and bake for another 20-30 minutes, or until the bread has a deep golden brown crust.
Cool the Bread
Remove the Dutch oven from the oven and carefully transfer the baked bread to a wire rack to cool. Let the bread cool for at least one hour before slicing and enjoying your homemade Rosemary Sourdough Bread.
Frequently Asked Questions
How to Make Rosemary Garlic Sourdough Bread?
To make Rosemary Garlic Sourdough Bread, simply add roasted garlic cloves to the dough along with the rosemary in step 2 of the instructions. You can roast the garlic cloves by wrapping them in foil and baking at 400°F (200°C) for 30-40 minutes, or until soft and golden brown. Once cooled, squeeze the cloves out of their skins and add them to the dough.
Do I Have to Use Fresh or Dried Rosemary?
You can use either fresh or dried rosemary in this recipe. Fresh rosemary offers the best flavor and fragrance, but dried rosemary is a convenient alternative when fresh isn't available. If using dried rosemary, reduce the quantity to half of what is called for in the recipe (e.g., 2 tablespoons dried rosemary instead of 1/4 cup fresh rosemary).
Olive Oil in Rosemary Sourdough Bread?
While this recipe doesn't specifically call for olive oil, you can incorporate it for added flavor and texture. To do so, mix in 2 tablespoons of olive oil along with the salt and rosemary in step 2. Additionally, you can brush the top of the dough with olive oil before baking for a golden, crispy crust.
Can You Freeze This Bread?
Yes, you can freeze this rosemary sourdough bread recipe after it cools. Read more about freezing sourdough bread.
Can I Bake Sourdough Bread and Eat it the Next Day?
Storing your homemade sourdough bread overnight can be tricky, but with a few simple tips, you'll have perfectly delicious bread for the next day. Read more about how long sourdough bread will last.
This Rosemary Sourdough Bread recipe is the perfect way to enjoy the delicious flavors of fresh rosemary and sourdough in a homemade loaf. The step-by-step directions make it easy for bakers of all skill levels to create a fragrant, flavorful bread that pairs well with a variety of meals or makes for a delicious snack on its own. Happy baking!
Rosemary Sourdough Bread Recipe
Course: Sourdough
Ingredients
1 cup (240g) active sourdough starter

2 cups (480g) warm water

4 cups (480g) bread flour

1 cup (120g) whole wheat flour

2 tsp (10g) sea salt

1/4 cup (60g) fresh rosemary, finely chopped (or 2 tbsp dried rosemary)

Optional: roasted garlic cloves, parmesan cheese, lemon zest
Directions
Mix the Dough – Combine the active sourdough starter and warm water in a large mixing bowl. Stir well. Add the bread flour and whole wheat flour to the mixture. Stir until a rough dough forms.
Let the dough rest for 30 minutes, covered with a damp towel
Add Salt, Rosemary, and Optional Ingredients
Mix the dough using a wooden spoon or your hands until well combined.
Bulk Fermentation -Cover the dough with a damp towel or plastic wrap and let it rest at room temperature for 3-4 hours.
Shaping the Dough -Gently shape the dough into a round loaf on a clean, floured work surface. Place the shaped dough on a sheet of parchment paper and cover it with a clean kitchen towel. Let the dough rise for the final time, which will take approximately 2-3 hours.
Preheat Oven and Dutch Oven – When the dough has almost finished its final rise, preheat your oven to 475°F (245°C). Place the Dutch oven inside the oven to heat up as well.
Score and Bake the Bread – Once the oven has reached the desired temperature, carefully remove the hot Dutch oven. Transfer the dough with the parchment paper into the Dutch oven. Score the top of the dough with a razor blade or sharp knife to create a pattern or simply a straight line.
Cover the Dutch oven with its lid and bake for 30 minutes. Then, remove the lid and bake for another 20-30 minutes, or until the bread has a deep golden brown crust.
Cool the Bread – Remove the Dutch oven from the oven and carefully transfer the baked bread to a wire rack to cool. Let the bread cool for at least one hour