With all the healthy recipes for soup that are available, you will also want the best type of bread that is just as delicious as the soup you're about to make. The best bread for soups is the one that will complement and enhance the flavor and style of your soup.
Let's explore what the best bread to serve with your favorite soup is. You can pair your hearty meal with sourdough bread, flatbread, dinner rolls, garlic bread, focaccia, naan bread, biscuits, or breadsticks.
List of the Best Bread for Soups
Here is a list of delicious types of bread that you have to try with your delicious creamy soups. You can either make homemade bread or you can always buy it from your local grocery store.
Sourdough Bread For Different Kinds Of Soups
Sourdough bread is not only tasty but wholesome as well. The natural yeasts that are used to make sourdough bread work longer than the baker's yeast used to make regular bread. The sourdough process breaks down the proteins in the flour into amino acids.
Normal baker's yeast is a hybrid fungus and does not break down the gluten in the same way as natural yeasts. This is because the necessary enzymes are not produced by the baker's yeast. Sourdough is a process that utilizes natural yeasts to ferment the flour for bread to make it more easily digestible. Sourdough bread can be rye, whole wheat, or white. Whole wheat sourdough is especially tasty and fun to make.
This type of bread is great for creamy mushroom soup, tomato basil soup, broccoli cheese soup, lentil soup, and potato leek soup.
Focaccia Is An Italian Bread Made With Simple Ingredients
Focaccia is one of the oldest and most popular flatbreads and has become a staple in Italian cuisine. It is a type of flatbread made often in Italian cuisine from a pizza dough. The bread itself is plain and flat due to the minimal leavening agents used in the basic recipe. Usually, focaccia is topped with olive oil and chopped olives. Although becuase of the recipe's versatility, it can be changed in various ways to take on new flavors.
The basic ingredients of focaccia are flour, water, and salt. This may not sound like the perfect combination for bread. The recipe combined with the right amount of heat has produced a versatile flatbread that lasted through the ages.
The Romans spread focaccia across Europe. Due to its simplicity, the bread was often used in other countries as food for those who lived in poor areas. Focaccia was even used to feed slaves of the Roman Empire, and in some communities, the bread still carries shame.
Focaccia goes very well with tomato bisque, minestrone, white bean soup, clam chowder, french onion soup, or gazpacho.
Ciabatta Bread For A Steaming Bowl Of Soup
The word "ciabatta" means "slipper" in Italian. Ciabatta bread has the long, thin, soft, and slightly formless shape of a slipper. Baked with white flour, ciabatta is high in carbohydrates and low in fiber. The nutrition, like that of most white bread, is dependent on the "enrichment" of the white flour. The taste and the distinctive crunch of the crust, however, leave most white bread far behind in flavor.
Ciabatta comes from northern Italy. There it is called "pane Francese" or French bread. Nobody is sure how it got that name, but it may be a nod to the French influences on the cuisine of northern Italy. Ciabatta is the regional bread of the Lake Como area in northern Italy. People in that area call it "pane di Como" after Lake Como.
Ciabatta is made using nothing more than yeast, flour, water, and salt. The yeast is mixed with a little bit of flour to make a yeast starter, which can take 15 to 24 hours to rise. Once incorporated into the bread dough, the starter provokes a slow, four-hour rise of the dough itself. This slow rise, which allows the yeast to grow, mature and work their magic, is what gives ciabatta its depth of flavor. Ciabatta dough is very moist and loose. Rather than trying to form this loose, sticky dough into loaves, bakers simply stretch it into the classic ciabatta shape. When baked in a brick oven, the moist dough opens up to form an open, airy crumb with a crisp crust.
Freshly made ciabatta is the perfect bread with a crusty exterior to pair with a delicious soup like vegetable soup, chicken noodle soup, cheese soup, cream of broccoli soup, or pea soup.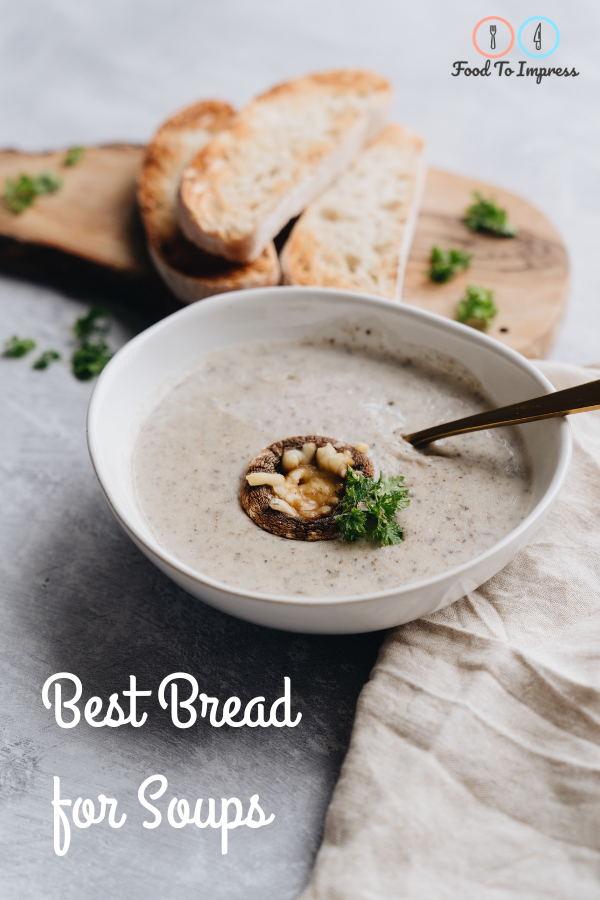 Naan Bread Goes Well With Any Type Of Soup
Naan is the word for bread in Persian. Its use in English generally refers to a type of flatbread common in southern Asia. The baker spreads leavened dough in a thin layer over a flat surface and cooks it in a tandoor, or clay oven. Like other types of bread, the nutritional content of naan depends more on the type of flour it uses than the cooking technique.
Naan is a traditional flatbread from India and South Asia and can practically be served with anything. It comes in various forms (ex. plain, with garlic, with dates, etc.). Not only does Naan complement a meal, but it also tastes delicious by itself.
Naan can also be used as a utensil, wiping up the leftover remnants of the meal from the plate like a spoon, and is the perfect accentuation to a plate of rice and curry. It can also be used similarly as a tortilla, where various ingredients can be wrapped inside of it.
Enjoy your naan bread with a great soup like carrot soup, Indian spiced tomato soup, chicken florentine soup, chicken noodle soup, or vegetable curry soup.
Soda Bread – Great Flavor For Any Kind Of Soup
Irish soda bread is a quick bread in which sodium bicarbonate is used rather than yeast. Soda bread can dry out very quickly and typically lasts around three days. It is best eaten with hearty meals and served warm or toasted. You can make Irish Soda Bread with Raisins and without. I do not recommend the version with raisins to be served with soup.
Irish soda bread dates back to 1840 when sodium bicarbonate was introduced to Ireland. This meant that those who did not have ovens could still make bread because Irish soda bread then was made in a pot set on coals.
The ingredients of traditional bread are flour, sodium bicarbonate, salt, and buttermilk. The Irish like to add other ingredients such as eggs, raisins, and some form of nut.
Traditional Irish soda bread is made in a cast iron skillet. Before cooking a cross is cut on the top to allow the heat to penetrate through the thickest part of the bread. Catholics believe that the cross was placed on the top of the bread for luck and to ward off the devil and not for scientific purposes of heat distribution. Irish soda bread is not a loaf of bread, but rather it is round bread that is the size of a skillet or frying pan.
You can pair soda bread with the best soups like mushroom soup, taco soup, Italian meatball soup, chicken meatball soup, or black bean soup.
Rye Bread Is For The Best Soup Recipes
Rye bread is an interesting blend of spices and ingredients which most people feel must be complicated, but it's not as tough as it seems. The biggest ingredient you need in making rye rustic bread is a lot of patience.
Rye bread and whole wheat bread typically contain some similar ingredients: yeast, milk, salt, and warm water. Rye bread gets its sweeter bread flavoring from molasses and sugar, while wheat bread often gets its sweetness from the honey.
You can serve the rye bread with roasted butternut squash soup, butternut squash and sweet potato soup, spicy black bean soup, sweet potato and kale soup, or black bean and lime soup.
Garlic Bread Is A Great Addition For Any Large Bowl Of Brothy Soups
Garlic bread is a traditional addition to a meal of spaghetti with meatballs but it works great with soups too. It is very simple to make and certainly is available to buy already made. All that is required is Italian or French bread, some olive oil or butter, and some garlic. The bread is spread with the oil or butter and the garlic, either fresh or garlic powder, and then baked in the oven until warm and crispy. To take it up a notch, consider using roasted garlic and/or cheese.
Some food marriages are a match made in heaven. Tomato and basil soup, lamb and mint, and Spaghetti Bolognese with a side of garlic bread! The wonderful combination of a crusty outer case, soft center oozing with lashings of warm garlic butter, and fresh herbs are irresistible. The fresh, fragrant flavor surpasses any store-bought alternative. What's more. It's ridiculously easy to prepare, taking less than ten minutes. You make garlic french baguettes, although different types of bread can be used. A good alternative would be Ciabatta.
Garlic Bread goes very well with oxtail soup, tomato soup, french onion soup, roasted red pepper soup, or butternut squash soup.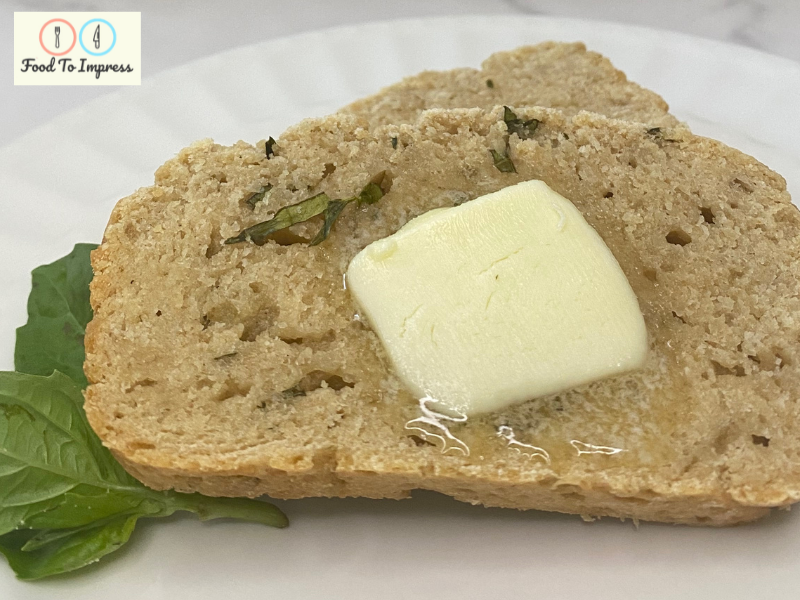 Basil Bread
This basil bread tastes amazing with tomato soup, cauliflower soup, or any plain chicken soup. The sweet but savory flavor is a perfect addition.
History of Soup
From Kings to Paupers, soup has been a staple food since man first hunted and foraged for ingredients to throw into a pot. Our modern word "soup" derives from the Old French words sope and soupe.
The end of the normal day meal was always the lighter one between the two meals and the soup appeared to have had a very important place in it. This was exactly the cause of the inclusion of a soup in this end-of-the-day meal that later became called "souper" or "supper."
Soups are easily digested and were prescribed for sick people and invalids since ancient times. These types of soups could have been as simple as bread and grains soaked in milk or water to make gruel.
Did I miss your favorite type of bread? Comment below and let me know what are your favorites.